Project logistics for major moves anywhere in the world
Our project transport services offer reliable and cost-effective solutions that meet high standards of safety, service and quality.
When you need to move heavy, oversized or complex cargo, DSV's Project Transport is ready to provide specialised, tailor-made solutions for the most ambitious energy, industrial and capital infrastructure projects. With a global force of skilled professionals and decades of experience in this area, we are ready to serve your most complex logistics demands and execute any major move, even to the most remote locations.
Our experts have the necessary knowledge, track record and resources to create end-to-end transport solutions for each phase of the entire lifecycle of energy projects – whether it's moving wind turbines or solar panels in the renewable energy sector, or supporting oil and gas projects from exploration to decommissioning.
The tallest object DSV has transported upright was a 35 metre transition piece for the Sheringham Shoal wind farm off the east coast of England.
For large-scale, industrial projects, we can help you move entire plants, facilities and components between production sites located in all parts of the world.
If you need to transport emergency or special cargo to areas of conflict or disaster, our global network is there to support governments as well as aid and relief organisations with logistics operations, even to regions with no built-up infrastructure.


Turn your logistical challenges into solutions
Scale: Large-scale, industrial job sites require equally large machinery and equipment. DSV works closely with you to plan customised loading, unloading and delivery services to suit these oversized needs.
The largest item DSV has shipped was a 13,000 cubic metre container ship unloader equivalent to 360 TEUs.
Geography: Many of the world's largest industrial projects are located in landlocked, isolated areas. We help you reach remote drilling and production sites, and handle both offshore and inland deliveries, by providing every aspect of multimodal transport.

Flexibility: DSV's Project Transport is highly flexible in timing, routing and delivery mode, thus meeting key requirements of the oil and gas industry in particular. This flexibility allows us to create tailor-made solutions.

Urgency: Downtime is costly and emergencies call for fast response. When you need to restart equipment and guarantee production, or reach remote areas quickly, DSV's critical response teams are available 24/7.

Compliance and ethics: Moving unusual and oversized loads to remote locations generally requires authorisation and customs clearance at several stages of the journey. DSV offices and personnel have up-to-date knowledge on relevant government laws and regulations, to ensure the smooth and efficient movement of cargo in line with all quality, health, safety and environmental (QHSE) legislation.


End-to-end services from air and ship chartering to complete project management
Planning and project management: Large-scale projects begin long before any major moves are actually carried out. DSV supports customers in the planning stage by giving detailed advice and pointing out potential transport issues based on local experience.
About 90% of the time spent on a complex project is taken up with planning.
Transport engineering: Installations are designed and manufactured with the transport already in mind. DSV's in-house transport engineering experts can provide valuable support for out-of-gauge and heavy-lift moves that require special equipment or even changes to existing infrastructure.

Route and site surveys: DSV conducts risk assessments and detailed route and site surveys along transport routes, to account for limitations posed by infrastructure, climate, season or even the political landscape. In marine transport for example, we make hydrographic surveys of shallow waters or identify safe havens in case of bad weather en route.

Marine and air charters:
Global charter services are available to get out-of-gauge and heavy-lift loads to their destination. These services include the charter of specialised marine and river vessels, barges, tugs and supply boats, as well as aircraft and the Air Charter Network. We also provide port agency and husbandry services for oil and gas customers.

Origin and destination services: At origin, DSV's turnkey project forwarding solutions include vendor and purchase order expediting, collection, marshalling, industrial packing, delivery to port or airport and export customs clearance. At destination, DSV provides first-hand information on import regulations and import customs clearance.
Do you want to discuss how best to move your heavy or oversized cargo? Speak to our Project Transport experts for reliable and cost-effective solutions that meet high standards of safety, service and quality.
Transport for your out-of-gauge, heavy or special cargo

Read about industrial projects

Transport your energy project to any destination worldwide

Read about renewable energy projects

We organise all types of ship chartering worldwide

Read about ship charter for special transport
Hyundai Engineering
DSV successfully delivers its heaviest single piece of project cargo in Asia in recent years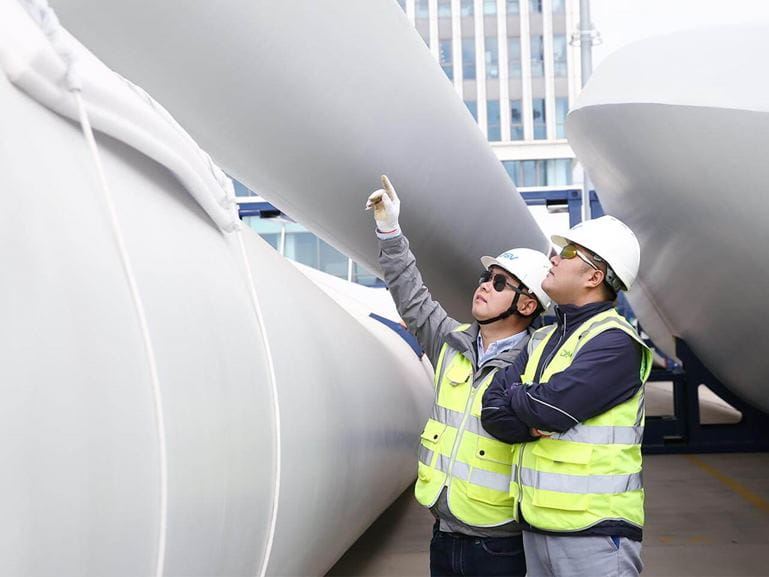 Any questions?
Our experts are ready to help. Get in touch and we'll find the solution you need.