DSV adds new capacity to Air Charter Network in APAC
From the beginning of 2022, more capacity has been added to the DSV Air Charter Network on two specific routes to and from the APAC region. We will be able to offer our customers three weekly flights from Hong Kong to Liege and back as well as a new and direct flight lane between Singapore and Los Angeles.
1/28/2022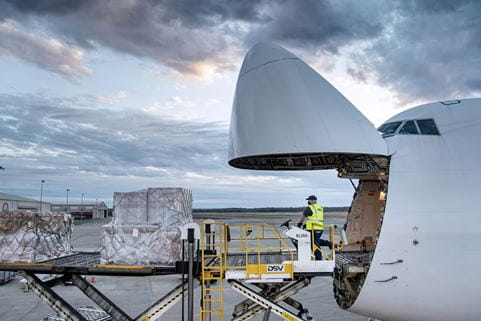 Due to the evolving situation of COVID-19 and its variants, the air freight market is greatly pressured due to a lack of capacity and continued backlogs. The situation is particularly critical in certain parts of Asia, where governments have imposed stringent COVID-19 restrictions in response to the spread of the Omicron variant. This provides a significant challenge for companies that rely on transportation of goods to and from these markets, and the upcoming Chinese New Year will likely increase the complexity of the situation even further. To accommodate the continued demand in the region, we have expanded the DSV Air Charter Network.
Expanding Hong Kong Star product to three flights per week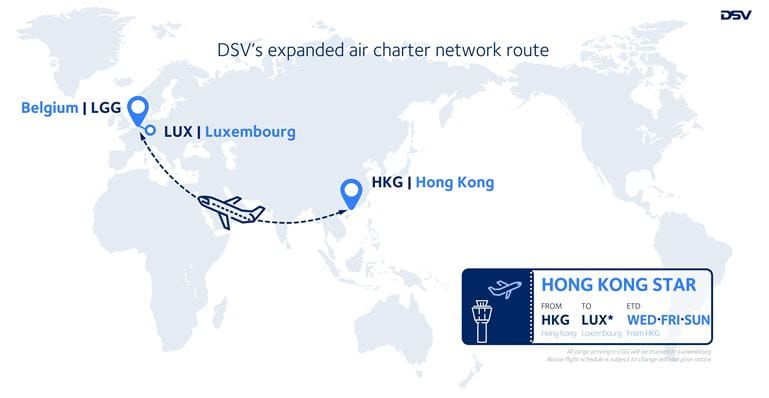 The expanded Hong Kong Star route now flies 3 times a week from Hong Kong to Liege every Wednesday, Friday and Sunday. The round-trip service has enhanced our Europe-Asia air cargo bridge, and all cargo arriving at Liege Airport will be trucked to our Luxembourg gateway for devanning and distributed to destinations in other parts of Europe.
The Movie Star: A new and rare Singapore – Los Angeles route
The Movie Star route is a new weekly service catering to the needs of air capacity from Singapore to Los Angeles, departing every Wednesday. Due to its location, Singapore is often bypassed by carriers who opt to fly to and from China and Hong Kong due to shorter distances into Europe and North America. Through this new route, we will be able to fill this gap in the market and offer a valuable and reliable solution for our customers.
About the Air Charter Network

The DSV Air Charter service provides tailor-made solutions and guarantees global reach and vast capacity – 24 hours a day, 365 days a year. The network is designed to not only manage aircraft cargo on specific routes, but also to structure and oversee processes on the ground. This ensures the best possible control, security and efficiency from when cargo arrives at one airport until it leaves the final one in another part of the world.
DSV Air Charter Network solution is built on our strong worldwide partnership with commercial carriers which allows us to offer a customer-driven air transport service which is flexible and reliable.
Read more about our DSV Air Charter Network here.
Any questions?
Our experts are ready to help. Get in touch and we'll find the solution you need.