DSV and Partners Work Together to Deliver Plasma Globally
DSV partners with va-Q-tec and United Airlines to deliver plasma across the globe.
06-30-2020

While the coronavirus pandemic continues to disrupt the global shipping market, DSV maintains a pharmaceutical vertical team which continues to dedicate staff and resources to keep critical supply chains moving - determined in our commitment to deliver pharmaceuticals around the world. Along with our internal team, we have strong partnerships with industries leaders who provide the necessary pieces to get our critical shipments around the world safely and on time.

When a pharmaceutical company requested a solution for the weekly transport of human plasma, DSV forged similarly dedicated partnerships with United Airlines and va-Q-tec, a leader in cool chain products, to ensure a safe and reliable delivery without fail.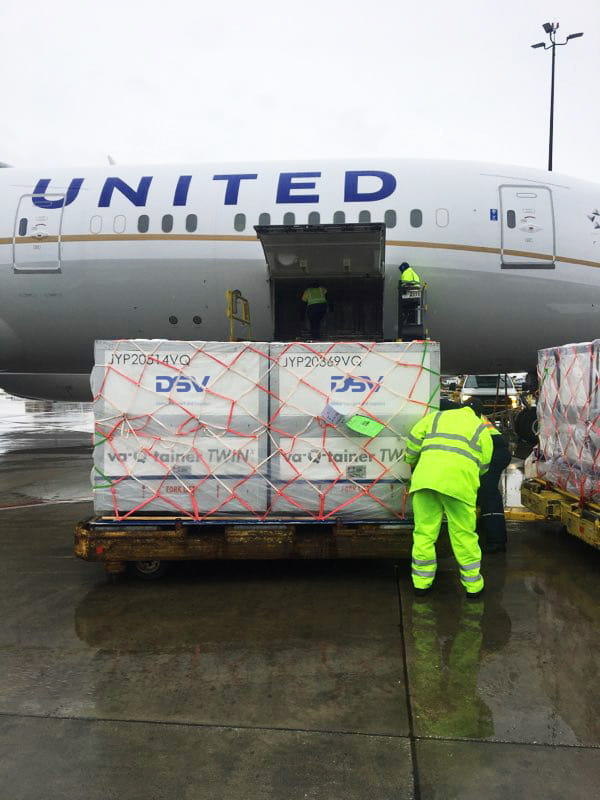 The shipment is incredibly sensitive due to the fragility of the product. The plasma requires a very low, controlled temperature at -23 degrees Celsius, which is made possible by va-Q-tec's containers. These specialized containers keep the product at the necessary temperature throughout the 10,000-mile journey, which includes trucks, warehouses, airplanes, and diverse climates.

The DSV team includes a 'no-fail' chain including key employees in the US and at the destination – essentially becoming the director of the supply chain from end-to-end, securing the temperature-controlled containers, ensuring on-time delivery at each stop, and coordinating all efforts to keep the product safe from A-Z.

With current limited freighter capacity due to the global health crisis, we needed a creative and consistent solution to deliver these critical weekly shipments. United Cargo stepped in and worked alongside DSV to launch a new cargo charter connecting the cities. This allows us to secure a flight to the destination every Saturday and ensure that the product is delivered on schedule each week.

Despite the distance, product sensitivity, and all challenges related to the current health crisis, these companies demonstrated our ability to come together and create solutions that keep critical supply chains flowing. We value our partnerships with these companies, who in times of crisis, work alongside us to ensure critical, life-saving shipments are delivered.
Any questions?
Our experts are ready to help. Get in touch.