March Port Conditions Update
Nationwide congestion, ecommerce import spike, and increased import volumes continue.
03-22-2021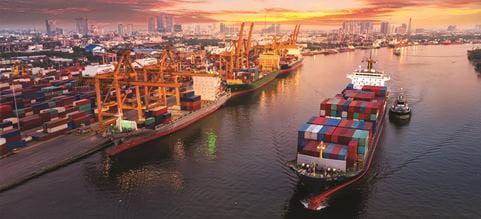 In the year since the COVID crisis hit the United States, we have seen many interesting maritime/trucking numbers. Experts are unsure of when import volumes will slow. Currently, there is speculation that the most recent stimulus check rollout could influence import volumes. During the first stimulus rollout in 2020, ecommerce sales increased by over 100% when compared to the same period in 2019. This unprecedented increase added to the influx of imports that we saw in the second half of 2020. It is projected that this situation will be similar.
In January, we predicted a decrease in import volume following Chinese New Year, but that was not how the situation played out. The Port of Los Angeles/Long Beach import volumes are highlighted below, though the increase in imports has been nationwide. The congestion at LA/LGB has pushed more traffic to Northern California and the East Coast, and volumes show no signs of slowing down.
Below is the increase in TEUs from last year across ports nationwide:
Port Of NY/NJ:
80.3% increase
Port of Savannah:
199.3% increase
Port of Houston:
60.9% increase
Port of Norfolk:
59.3% increase
We have been monitoring LA/LGB Terminal productivity over the past few months and the same terminals remain strong in fast turn times: Matson, Everport, Pier A. The least efficient terminals remain: TTI, ITS, and APM.
The Port of LA/LGB is showing a three-week volume projection, an average of 123% higher than this time last year. Vessels are remaining at anchorage for an average of 8 days prior to entering the port.
Week 11: March 14-20
144,045 TEUs imported
51,500 TEUs to be moved locally
Week 12: March 21-27
138,101 TEUs imported
49,820 TEUs to be moved locally
Week 13: March 28-April 3
151,390 TEUs imported
54,707 TEUs to be moved locally
Please reach out to
lax.road@us.dsv.com
with any questions regarding specific port or market trends.
Any questions?
Our experts are ready to help. Get in touch.