DSV Recognized for Supplier Excellence by Lennox International
We are honored to be awarded a Supplier Excellence Awards by Lennox International.
05-12-2021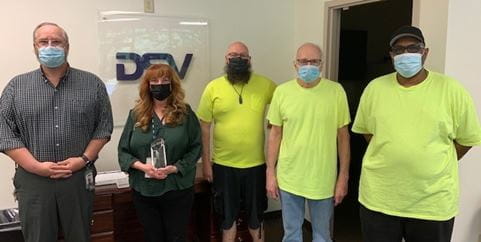 Our DSV employees on the Lennox Team
Lennox International recognized DSV this month with a Bronze Lennox International Supplier Excellence Award. Lennox partners with more than 1000 suppliers around the world, who live by their core values of integrity, respect, and excellence and DSV was 1 of 13 recipients recognized for this special award.
"We're pleased to receive this Supplier Excellence Award from Lennox International. Our experienced team and innovative solutions enable us to offer logistics solutions that add value within Lennox International's supply chain. I am proud of our team's hard work and commitment to our clients", said Glen Miller, DSV General Manager, Operations.

Lennox International noted that the unique challenges presented by the pandemic and the supply chain bullwhip effect of the swift economic recovery required suppliers to step-up and keep product flowing to their customers. DSV not only stepped up to keep supplies moving to Lennox customers, we also continued our commitment to supply and distribute crucial PPE during COVID-19 to create a safe environment for our employees.

"Together we overcame adversity and grew despite extraordinary challenges. Together we continue to deliver industry leading innovation, premium quality, and solid productivity," said Lennox International, Chairman and CEO Todd Bluedorn.

Thank you to Lennox International for the recognition.
Any questions?
Our experts are ready to help. Get in touch.