DSV Transports Life-Saving Vaccines Around the Globe
DSV transported over 146,000,000 donated vaccines to countries in need in 2021, and we continue to do so in 2022.
02-03-2022
Throughout 2021, DSV partnered with UNICEF and United Airlines to transport donated COVID-19 vaccines to countries in need as part of the World Health Organization's COVAX program.

COVAX aims to accelerate the development and manufacture of COVID-19 vaccines, and to guarantee fair and equitable access for every country in the world. The COVAX program distributed a total of 865,000,000 vaccines in 2021. DSV has moved almost 17% of those from the United States – a total of 146,680,150 for the year, and we're still counting.

DSV's vaccine distribution from the USA has been handled completely by our Buffalo, New York office. We continue to send vaccines in 2022, mainly to countries in Africa.

Complex Shipments Requiring Creative Thinking
The vaccines must be delivered within a specific timeframe, which made for an interesting situation in Bhutan. Due to a limited runway length, pandemic restrictions, no commercial flights to the area with the ability to handle the shipment, and other factors, the shipment destined for Bhutan was flown first to Singapore from New York. In Singapore, we were able to move the shipment to a chartered Boeing 737 freighter, which could fly into the country. Our team was able to manage all of this within the required 96 hours after the vaccines were picked up in Memphis, Tennessee.

Reflecting on the Big Picture
We as freight forwarders may not immediately visualize the impact of our day-to-day work in the logistics industry. It is a privilege to consider the life-saving effects of this ongoing project, and we are humbled to be a trusted partner of United Airlines, UNICEF, and COVAX.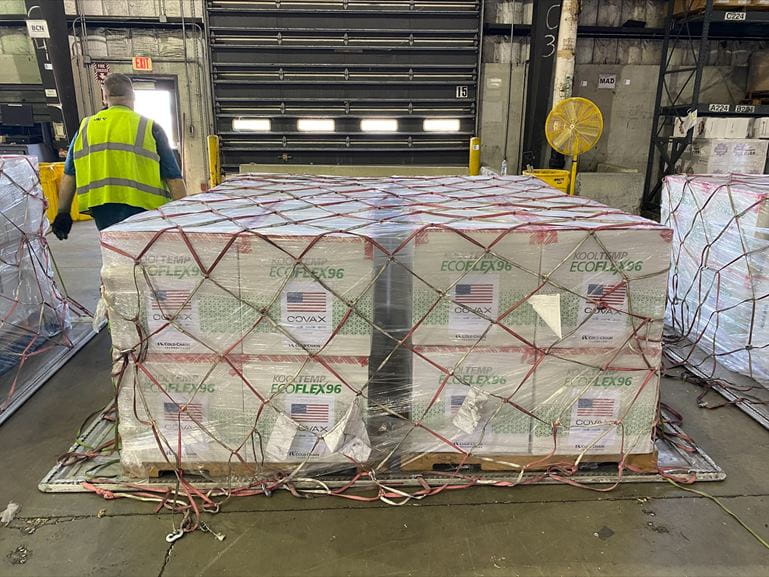 Any questions?
Our experts are ready to help. Get in touch.