DSV Shanghai: Operational Updates due to Local Lockdown
Shanghai has announced a citywide lockdown from March 28 to April 5
03-29-2022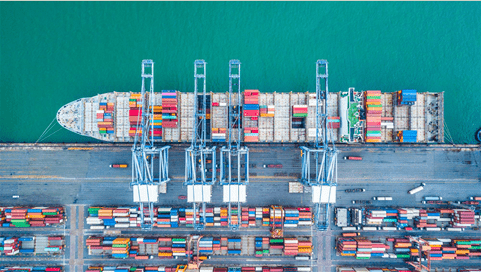 Due to increasing COVID cases in Shanghai, the authorities of the city of Shanghai have announced a lockdown in two stages to carry out extensive testing of the population over the next nine days. From March 28th to April 1st, the Eastern side of Shanghai (Pudong) will be under lockdown, while the Western side (Puxi) will enter lockdown from April 1st to April 5th. Public transport will be suspended and firms and factories must halt operations or work remotely.
As a consequence, DSV Shanghai employees are currently largely working from home. The same applies to airline, carrier, and vendor employees, which will possibly result in delays of local cargo and document processing. Overall, we expect to see a significant impact on logistics.
Air Export
Even though PVG airport is per se still operating terminals and customs clearance with closed loop management, normal import/export operations are very difficult as transportation between export warehouses and terminals are not currently possible. The authorities are working on special permits enabling drivers to enter PVG with a valid 48 hour nucleic acid test certificate, but as of now, these options remain limited.
As a contingency measure, we are working on utilizing alternative solutions such as CGO to move cargo from Eastern China directly. Larger consignments can be dispatched directly, while smaller consignments will be consolidated in Kunshan and then dispatched. We are also scouting for additional capacities out of CGO and other airports, and it is expected that airfreight rates will reach even higher levels.
Air Import
Air import shipments can still be processed at Shanghai Airport, but the lack of available trucking resources can lead to significant delays getting cargo transported to consignees. Where possible, we suggest utilizing CGO airport as a potential alternative import gateway. For shipments that are affected during this period, our staff will coordinate potential contingency steps with you closely.
Ocean Export (FCL)
Key facilities and ports are operational, the key constraint relates to trucking access to bring cargo from Jiangsu and Zhejiang province into Shanghai.
As it looks, it will still be possible for non-Shanghai trucking companies to enter Shanghai ports with FTLs and full container loads, so we do expect that the majority of FCL shipments can be handled via Shanghai ports.
Ocean Export (LCL)
LCL trucks, however, are not currently permitted. We recommend using Ningbo as an alternative gateway - our teams in Shanghai and Ningbo are closely coordinating in this respect.
Ocean Import
Ocean import operations remain largely functional but shipments might see considerable delays.
Contact us for further assistance
All operations/booking windows remain unchanged. Customers can communicate with the local representatives as usual and our operations teams will coordinate cargo routing accordingly.
As your reliable logistics partner, we are closely monitoring the situation and working to navigate these challenges with feasible alternative solutions.
Please reach out to your DSV representative or email us with any questions.
Information on behalf of DSV Air & Sea Co., Ltd (Shanghai)
Any questions?
Our experts are ready to help. Get in touch.