WEATHER UPDATE: Hurricanes in US Gulf
DSV offices in Miami and Orlando remain open for business.
09-27-2022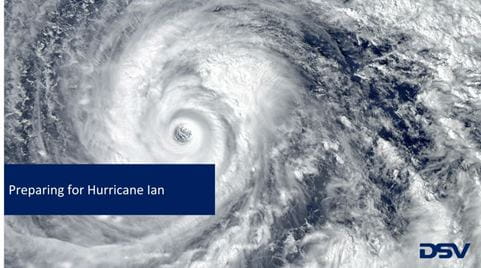 Hurricane Ian
Over the past few days, Hurricane Ian has been strengthening in the Gulf of Mexico, projected to land on the Florida Peninsula in the next 24-48 hours. Many ports and airlines are announcing delays and closures in anticipation of the coming storm.
Closures and Delays
Miami International Airport (MIA) will remain open but expect many flight delays and cancellations due to the storm. Flight operations are determined by the FAA and each individual airline. A few airlines have placed embargoes for all products (inbound/outbound/transfer).

Port of Miami, Port Everglades and South Florida Container Terminal are in preparation for suspensions and will be closed on Wednesday, September 28, 2022. Normal terminal operations are anticipated to resume Thursday, September 29, 2022.
DSV
DSV staff in Miami and Orlando will be available to our clients through normal communication channels. However, please be advised that actual office locations may be closed.

We will continue to monitor Hurricane Ian with updates regarding affected ports and airlines (subject to change). If you have any further questions or concerns, please reach out to your local DSV representative.
Any questions?
Our experts are ready to help. Get in touch and we'll find the solution you need.