UPDATE – Beilun Port Operations
50% of Beilun district reopens as COVID-19 outbreak becomes under control
10-25-2022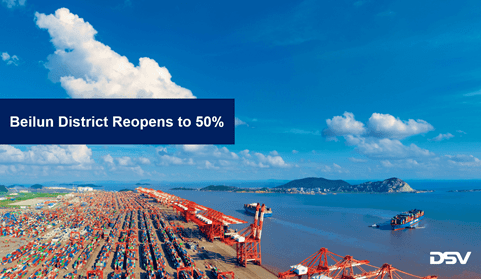 The Beilun district in China, home to the Ningbo and Meishan ports, has reopened to 50% capacity after a recent COVID-19 lockdown in the region. With the outbreak now under control, the Ningbo government made the announcement to partially reopen on October 23rd.
Lockdown Control Measures
During the lockdown, there was some flexibility for the delivery of goods since not all port yards suspended services. According to Seatrade Maritime, the Ningbo port offered closed-loop access for container trucks and empty container pick-up services in port areas to avoid yard limitations off the port.
Updated Port Operational Impacts
The overall operations at Ningbo port will still be slightly impacted, however it continues to get better day by day. Below status up to October 24th:
Terminal: Operation with traffic control, no impact on DSV business
Depot: 50% of depots resume working, sufficient equipment supplied
Vessel berthing: No impact
DSV CFS: Legacy CFS in Beilun resume working but with traffic control, no impact on DSV business
DSV Ningbo office: No impact
DSV's Services
DSV will continue to monitor the situation and keep you informed as updates continue to roll out. If you have any further questions or concerns, please reach out to your local DSV representative.
Any questions?
Our experts are ready to help. Get in touch and we'll find the solution you need.