Chinese New Year 2023
Prepare your supply chain as many from China take off work to celebrate
01-16-2023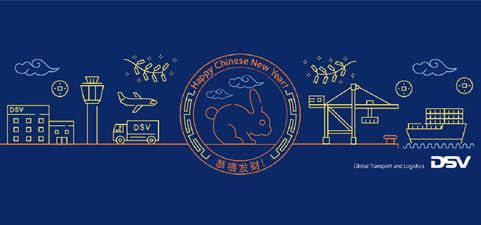 Chinese New Year is one of the most significant festivals of the year, marked by a two-week-long celebratory period starting Sunday January 22 lasting until February 5, 2023. Like Golden Week, many people travel to visit their families and take off work. As a result, factories, and shipping companies limit operations, with some even halting activities altogether.
Global Supply Chain
With China being one of the most significant hubs for global imports and exports, slowdowns in the region will affect the supply chain network worldwide, especially ocean freight shipping as overall capacity will noticeably decline.
According to Twill.net, ports in China will be operating at a lower capacity during the Chinese New Year period. Ocean space will be tight, and many freight services may become harder to secure as carriers will be overbooked.
Container Delays
Ports running at a lower capacity can result in container delays. If you have orders to fill or deadlines to meet, it is essential to ensure that you get your timings right when shipping to and from China to avoid late deliveries.
How to Prepare
In these circumstances, it is very important to plan your shipments ahead with a trusted logistics partner – that is where DSV can help. DSV is the third largest freight forwarder in the world, providing robust tools and service offerings that protect your shipments against all types of conditions with guaranteed visibility.
Contact DSV
DSV China will be closed from January 21 to January 27, resuming work on January 28. For any questions or concerns, please reach out to your local DSV representative.
Any questions?
Our experts are ready to help. Get in touch and we'll find the solution you need.