Canada West Coast ports vote to strike as US Labor Secretary intervenes in the United States
Ongoing port developments up and down the West Coast
06-13-2023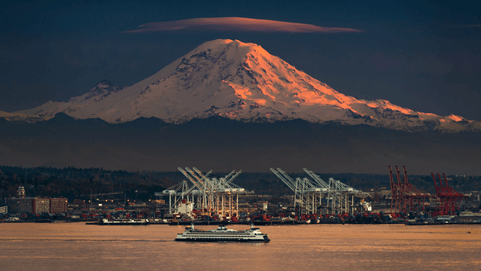 ILWU Canada vote to strike
In an ongoing development across the North American West Coast, the International Longshore and Warehouse Union (ILWU) of Canada voted in favor of a strike at the ports of Vancouver and Prince Rupert, reporting over 99% in support of the action. If a strike is to occur, it would result in a 72-hour work action notice with an earliest possible strike date of June 24. According to CNBC, the vote took place from June 9-10, coinciding with a 21-day cooling-off period between the British Maritime Employers Association and ILWU Canada.
Vital Gateways for US Cargoes
Vancouver and Prince Rupert, two crucial gateways for US cargoes, are integral components of Canada's maritime infrastructure. With direct intermodal rail services to Chicago, these ports play a vital role in facilitating trade between the two countries. However, the latest vote by ILWU Canada raises concerns about potential labor disruptions that could adversely affect cargo flow in both the United States and Canada.
Vancouver, the largest container port in Canada, handles a substantial volume of cargo traffic. Its strategic location on the Pacific coast makes it an essential hub for international trade, connecting Asia and North America. Meanwhile, Prince Rupert, ranking third in terms of container traffic in Canada, plays a critical role in facilitating trade between the western provinces and global markets.
Acting US Labor Secretary intervenes
In the United States, Acting Labor Secretary Julie Su is currently engaged in discussions with both ILWU union and PMA port management officials, with the objective of mediating a deal in light of rising tensions at key US West Coast ports over the past several days. Key port terminals that have been affected by these ongoing disruptions include Los Angeles, Long Beach, Oakland, Seattle, and Tacoma.
Port of Seattle faces shutdowns
Despite there being a noticeable pick-up in productivity over the weekend at a lot of the major US West Coast ports, the Port of Seattle remains on top of the list for terminal congestion and shutdowns. According to CNBC, the entire port was closed on Saturday after labor was not filled.
Many of the ports up and down the West Coast are still prone to possible slowdowns / disruptions, as negotiations are still on going and nothing is final. DSV is keeping in close contact with local operations. Should you have any questions, please reach out to your local DSV representative.
Any questions?
Our experts are ready to help. Get in touch and we'll find the solution you need.