Cardiff Universitys PARC and DSV collaborate to produce 3D printed visors for NHS staff in Wales
3D printed visors at DSV's Milton Keynes facility
24/04/2020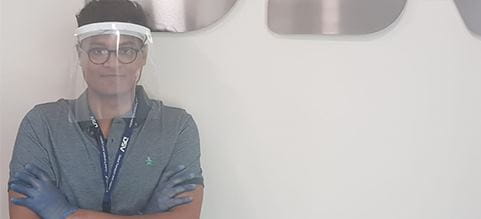 A suite of 3D printers originally destined for Cardiff University's PARC Institute have been repurposed and relocated to manufacture visors for NHS Wales in the fight against COVID-19.

The 3D printing machines, including the latest in industrial HP 3D printing equipment, were ordered as part of a £500,000 Welsh Government-funded project to develop a new RemakerSpace centre at Cardiff Business School, Cardiff University.

When the coronavirus outbreak began however, the PARC team immediately started to plan ways of repurposing the PARC's RemakerSpace equipment to help NHS Wales face COVID19.

Due to the temporary closure of the University campus, the first issue was finding a place to set up the machines. This is where DSV, a large global logistics company with facilities across the UK, stepped in and offered to set up the machines at DSV's ISO9001 healthcare facility in Milton Keynes. Drawing from the expertise of DSV's Logistics Manufacturing Services (LMS) section, the team was able to set up manufacturing in a matter of weeks to produce the much-needed visors. The LMS team had acquired 3D printing expertise through a previous knowledge transfer project (KTP) with Cardiff Business School.

Exemplary support from partners like HP has made this project possible. HP were quick to react, rising to the challenge and commissioning HP Multi Jet Fusion 3D printers to the DSV's Milton Keynes in a record time.

Martin Lancaster, General Manager for Health and Beauty in the UK, who also runs the DSV facility explains "I'm proud of the team here, we were able to react quickly, get the machines transferred from the University to our DSV site, set up the machines, train the team to operate the equipment, source material and start printing in a matter of days. Our team are already providing logistics services to the NHS during this difficult time, and this project allowed us to go a step further and support the NHS in a new and innovative way"

Professor Aris Syntetos, co-founder and Academic Director of PARC, explained "We had planned to open the RemakerSpace centre later in the year, but when the coronavirus struck, we decided that we needed to respond quickly, and do everything we could to help the Welsh NHS. This is a wonderful collaboration and I am very proud that PARC could help bring together Cardiff University's Business School and School of Engineering, Cardiff and Vale University Health Board and DSV, who all worked together as one team to get the visors printed and delivered."

The 3D printed visor project is being led by Cardiff alumni Hrishikesh ('Rishi`) Pawar (MSc Adv. Mechanical Eng., 2016), a DSV employee, member of PARC and an expert Additive Manufacturing (AM) engineer skilled in 3D printing design and implementation.

Rishi said: "The PARC team has been working hard to develop a visor which not only meets approval from the NHS but one that can be printed and assembled quickly here in the UK."

Robyn Davies, Head of Innovation at Cardiff and Vale University Health Board said: "This is a great example of innovation through collaboration. It shows perfectly how health boards, universities and industry partners can work together to deliver innovative solutions in Wales"

The consortium expects to dispatch its first batch of visors to the NHS this week. Coordinated by Dr Daniel Eyers (Cardiff Business School), the team are currently working through the necessary steps for certification.

But, as Professor Mike Wilson, Executive Vice President for Global Logistics Manufacturing Services at DSV and co-founder of PARC explains, "For us, this is just the first step. Now we have the RemakerSpace centre set up, we are looking at other products that we can manufacture to help the NHS in the fight against COVID-19. Not only that, in line with the objectives set out with the creation of the RemakerSpace centre, we want to continue to support the Welsh Government and NHS, with a focus on developing sustainable, multi-use products that help Wales lead the way in the transition to the new circular economies of the future"

About PARC
PARC resides within Cardiff Business School at Cardiff University and conducts leading research into forecasting and inventory planning, distributed manufacturing, 3D printing, and the shift towards a more sustainable circular economy. The PARC Institute works with a number of industry partners and is open to other companies interested in learning more about our work. To contact PARC visit www.cardiff.ac.uk/parc.