DSV launch Healthcare Centre of Excellence in UK
DSV UK have consolidated their healthcare expertise into a Centre of Excellence, based in Aztec West, Bristol.
13/02/2023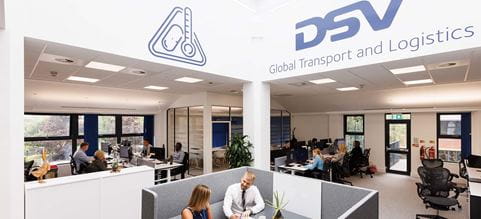 PRESS RELEASE
DSV UK have consolidated their healthcare expertise into a Centre of Excellence, based in Aztec West, Bristol. This site will host their dedicated team within the UK, supported by off-site WDA warehousing & cross dock teams located in Milton Keynes and Heathrow and underpinned by the global DSV healthcare network.

The dedicated Healthcare teams will offer market leading healthcare logistics within the UK, with over 20 years' experience in the vertical and can provide tailored supply chain solutions and healthcare logistics catalogue services to the pharmaceutical, medical device and diagnostics markets.

The Centre of Excellence provides a single source for all healthcare requirements facilitated by Road, Air, Sea, Cross Dock and WDA licenced warehousing, offering a full range of services with compliance from end to end. Also on offer are consultation services covering review of current supply chain and GDP compliance, along with expert advice.

DSV's customer centric approach and in-depth understanding of healthcare customer requirements offers peace of mind in an industry where every minute counts, and this site will allow DSV to support more businesses with key solutions for Day 1/ Patent product launches, controlled drugs and DSV Air Charter services, providing a cornerstone for DSV Healthcare services within the UK.

David Adlam – Director for Healthcare commented, "The introduction of a UK Healthcare Centre of Excellence highlights the expertise DSV hold within the vertical, and this investment allows more businesses to benefit from our fully compliant end-to-end service. As the industry grows, we see a rise in demands from all Healthcare sectors for value-added solutions and a single provider for a comprehensive delivery service as well as an increase on regulatory pressures. Our position is to eliminate such pressures and perform the necessary tasks to ensure the smooth movement of goods from A-B, no matter what the shipment size or safety requirements. We understand the delicacy when dealing with healthcare is much more sensitive."

One such company who has benefitted from DSV's expertise in the industry is Teva Pharmaceuticals, who have used DSV services based at the Centre of Excellence. Val Petursson, Senior Director, Global Head of Logistics for Teva said: "In our industry, we need to move freight quickly, reliably and under compliant conditions. We also need a partner that can provide specialist services such as product launches and white glove handling of critical or highly complicated logistics movements. DSV's dedicated UK Healthcare team provide a high level of commitment and customer service which has helped our business to grow and provided us with a freight service we can trust"

With our own warehouses and air charter network, an extensive network of ocean and air providers facilitated by a fleet of owned and subcontracted trucks on the road each day, we can have full control of cold chain logistics – from origin to destination. We support your supply chain by acting as 3PL, 3½PL or 4PL as required. Each specific role offers different models for distribution and supply chain collaboration. Our state-of-the-art freight management system sets the standard for healthcare distribution whether by road, air or sea worldwide.
Any questions?
Our experts are ready to help. Get in touch and we'll find the solution you need.