DSV invest in healthcare
Management of DSV UK explain how the company's new Brackmills site can provide robust logistics solutions for the UK pharmaceutical industry.
06/04/2023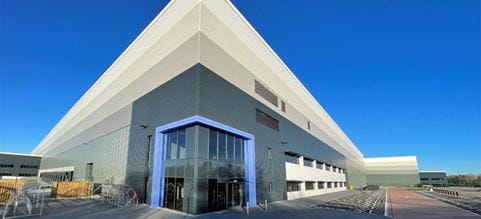 DSV has invested in a new specialist healthcare facility in Northampton, opening in the spring of this year. DSV has over 20 years' experience in the vertical, and this facility will further strengthen the logistics services they can offer UK companies, all underpinned by the global DSV Healthcare network.

The site will add key capacity in DSV's UK pharmaceutical & medical devices market and will ensure the supply of healthcare products becomes more robust to the sector. Comprising of 365,500sqft warehouse space and 22,000sqft office space, the site is certified BREEAM Outstanding as well as Net Carbon Zero, Rainwater Harvesting, Solar Panels/Water System together with a Target EPC rating A+.
DSV Healthcare's global vision
What is our global expertise? How has our work impacted people around the world?
Senior director, commercial and support services at DSV Solutions, Patrick Turner, says: "We operate healthcare facilities across the globe, with 20 located in mainland Europe and coverage in APAC, Americas and South Africa. Not only that, but it's a key vertical for DSV, where we have over 20 years experience and clients all over the globe.
DSV Healthcare in the UK
What are we currently doing in the UK?

Stuart Evans, MHRA licence holder, senior director, operations south at DSV Solutions says: "The time is right to implement the next stage of our healthcare strategy for the UK. These plans were already in place and we have been busy fine tuning and completing those tasks.
These include our facility in Northampton, which consists of 380,000 square feet. It is high bay – a new build, which is temperature controlled and fully compliant to good distribution practices for pharmaceuticals specifications."
DSV Healthcare – Brackmills
What is Brackmills and why is it special?

General manager, operations south at DSV Solutions, Martin Lancaster, says: "Brackmills will be a specialist healthcare facility located in Northampton, which is an established distribution and manufacturing location. Northampton is home to many international businesses that are attracted to the area by its favourable demographics. Our site is designed with the needs of our healthcare customers at the forefront, ensuring that we can provide a fully compliant, bespoke and tailored warehousing solution to the UK Healthcare market, all while receiving the highest level of service expected of DSV."
Any questions?
Our experts are ready to help. Get in touch and we'll find the solution you need.