DSV launch an on-road operational evaluation of the all-electric zero-tailpipe emission Volta Zero
DSV is pleased to announce that an evaluation is underway of the all-new 16-tonne all-electric medium-duty Volta Zero, which has today departed the gates of the Southern hub, Purfleet, for the very first time.
23/08/2023
The all-electric Volta Zero will be operating last-mile groupage deliveries in London and the Southeast making city centres safer and more sustainable for everyone. With a battery capacity of 150-225 kWh, depending on specification, the Volta Zero returns a real-world pure electric range of 95–125 miles on a single charge and is anticipated to be operating between the hours of 06.00hrs and 19.00hrs, with overnight charging back at the main depot.

As the first zero-tailpipe emission truck on the DSV fleet, the Volta Zero not only boasts a clear vision for healthier environments, particularly in more populated urban areas but offers vastly improved safety for our drivers and the public. The driver of a Volta Zero sits in a lowered central seating position, with 220 degrees of direct vision and 360 degrees of birds-eye camera visibility. From the central seating position, the driver can enter and exit onto the pavement from either side of the vehicle through sliding doors, making it safer for the operator, passing cyclists and pedestrians.

The Volta Zero has officially achieved a new industry-leading rating for the Direct Vision Standard. With a volumetric score of 32.82m³, the rating for the Volta Zero is the highest ever result of any vehicle tested and 50% higher than the nearest competitor vehicle tested, at 22m³. The Direct Vision Standard (DVS) was created for heavy goods vehicles wanting to travel into and around London. Introduced in 2021, the standard sets minimum requirements for driver vision of commercial vehicles over 12 tonnes if they want to enter the capital city.
Whilst accelerating our ambitions of a more sustainable future, we are committed to keeping supply chains flowing, recognising this goes hand in hand with our long-term objective to decarbonise logistics.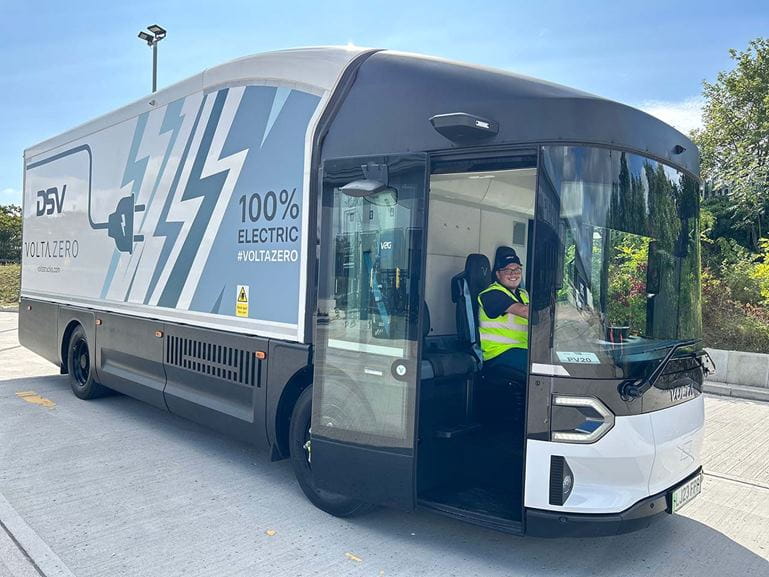 Any questions?
Our experts are ready to help. Get in touch and we'll find the solution you need.