We deliver solutions straight to your door through our local network of offices, partners, transport hubs and warehouses
Ownership
DSV A/S is listed on NASDAQ Copenhagen (Denmark) and included in the C25 index as one of the 25 most actively traded shares on the Copenhagen stock exchange.
To put focus on our different services and customer segments, DSV operates specialised divisions within South Africa. The services have been developed, interpreted and tailor-made to meet our customers expectations.
DSV Air & Sea
DSV Air & Sea offers air, ocean and road freight forwarding and customs brokerage services in 5 branches at the major terminals and ports throughout South Africa. As one of the Top 3 Agents in the country, our customers are able to achieve cost effective transportation solutions through leveraging our combined scale and volume.
DSV Road
DSV Road is one of the leading road transport providers in Africa specialising in configured supply chain solutions, secure courier solutions and the last mile delivery of small parcels through an extensive reach across South Africa extending into Botswana, Lesotho, Namibia and Swaziland.
DSV Solutions
DSV Solutions is responsible for the design, implementation and on-going improvement of warehousing and related value add services throughout South Africa and has special capability to offer the pharmaceutical and healthcare industries a cost-effective logistical and warehousing support service with a range of distribution services.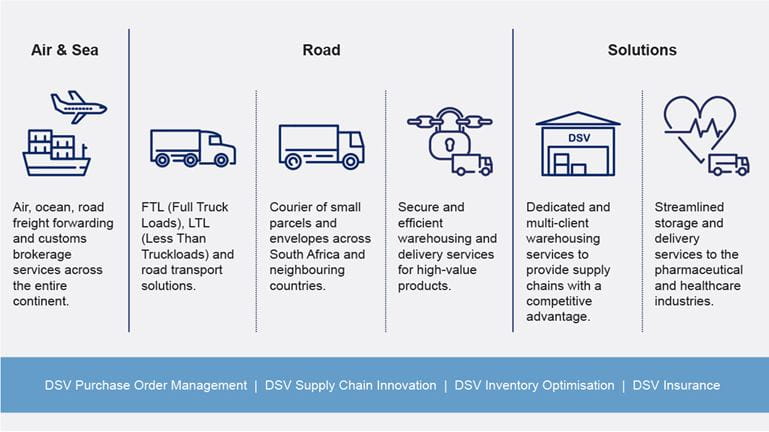 Any questions?
Our experts are ready to help. Get in touch and we'll find the solution you need.