Keeping supply chains flowing in a world of change
We believe world trade drives world prosperity, but it's time we remodel the way we conduct it to make it more sustainable
We acknowledge our role as part of the critical infrastructure driving world trade and as a key enabler for the sustainable growth of all our stakeholders, including customers, shareholders and societies at large. We work to provide greener and more efficient transport solutions through better planning, new technologies and innovative solutions.

As a top three transport and logistics provider, DSV has a strong focus on ensuring responsible and sustainable business practices everywhere we operate. Recognising our role in the industry, we have raised our sustainability ambitions and committed to reaching net zero emissions across our operations by 2050.

We help our customers navigate complex supply chains and introduce greater efficiency and sustainability within their operations. To achieve this, we provide Green Logistics solutions. These range from CO2 reporting to strategic supply chain optimisation and sustainable fuel offerings.

Achieving our sustainability goals cannot be realised alone. That's why we work with customers, industry partners and stakeholders to develop solutions that benefit both our planet and our business.
We provide customers with the ability to conduct their business more sustainably without compromising on service levels and operational excellence.
Jens Bjørn Andersen
Group CEO, DSV A/S


Sustainable supply chains in South Africa
South Africa's new logistics centres – DSV Park | Gauteng in Plumbago and DSV Park | Cape Town in Solar City – have been built to green building principles, ensuring the carbon footprint per square metre is managed and minimised through alternative energy, rainwater harvesting and utilisation of grey water and energy efficient building management systems. Significant investments have been made in alternative energy at both sites, through the use of solar photovoltaics, to enable minimal dependence on electricity from Eskom, a fossil fuel-based energy provider.
Electric 1ton pick up vehicles will be introduced for last mile deliveries. Electric vehicles have been identified as the electro-mobility mode to shift from traditional ICE (Internal Combustion Engines), and the aim is to have these charged with clean energy from the solar panels. The EV transition will be expanded from the 1ton pick up vehicles to long range, line-haul vehicles in 2023.
DSV will be phasing out the vehicles acquired with Globeflight in 2021 and replacing them with Euro 1V trucks, to align with the global strategy of reducing GHG emissions.
Circularity is a key component of waste management. Each of our operations has a recycling sort on site, which is taken off site for recycling or up-cycling. The waste to landfall is measured monthly and annual targets are set to eventually end with zero waste to landfill. In 2022, 74% of all waste collected was recycled with cardboard accounting for 61% of that total. Many sites have gone paper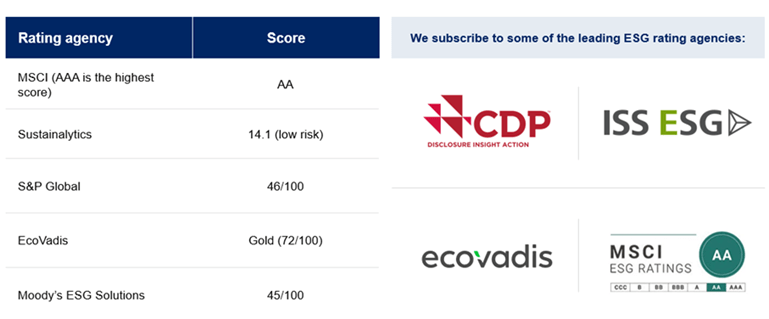 DSV has launched Green Logistics initiatives in South Africa aimed at reducing carbon emissions and supporting our clients' efforts to decarbonize their supply chains. We offer in-depth reporting per lane on GHG emissions, and numerous solutions on how to reduce these emissions, to enable our clients to achieve their net-zero goals.
Products include Mode shifting from Air to Ocean freight, which has delivered Co2 savings of up to 98% for per 1t/km, or from Road to Rail, which has yielded savings of up to 60% in CO² emissions. Optimising the loading of containers from 70% to 90% has led to 20% reduction in total emissions, and choosing the most direct route, as appose to routing via trans-shipment ports, has helped deliver a 20-30% reduction.
DSV works closely with our carriers, and the procurement of carriers, to ensure that the "greenest" carriers are used for all modes of transport Air, Ocean, and Road. Innovation sits at the heart of sustainability, and we are currently, are being testing alternative fuels in both Air and Ocean, as well as road freight.
DSV is fully committed to achieve the ambitious targets which have been set, and through the Global and local leadership teams, ensuring that we are doing our part keep supply chains flowing, and in doing so, ensuring that we are operating in a responsible manner, and to reduce our carbon footprint, and that of our esteemed customers.
Read more about how we work with sustainability
To turn our words into actions that can have an impact on our planet, we work with sustainability across all areas of our business, from air, sea and road freight to contract logistic
We continuously work with sustainability across all areas of our business, from air, sea and road freight to contract logistics.
Any questions?
Contact Martin Andreasen, Executive Vice President, Group Compliance