A clear ESG strategy
In recent years, DSV's approach to sustainability has evolved systematically. We take an active role in supporting the sustainability agenda in our industry, and fully integrate sustainability into our corporate strategy and business operations.
Our strategy is centred around our sustainability priorities and associated material topics within
environment
,
social
and
governance
as reflected below.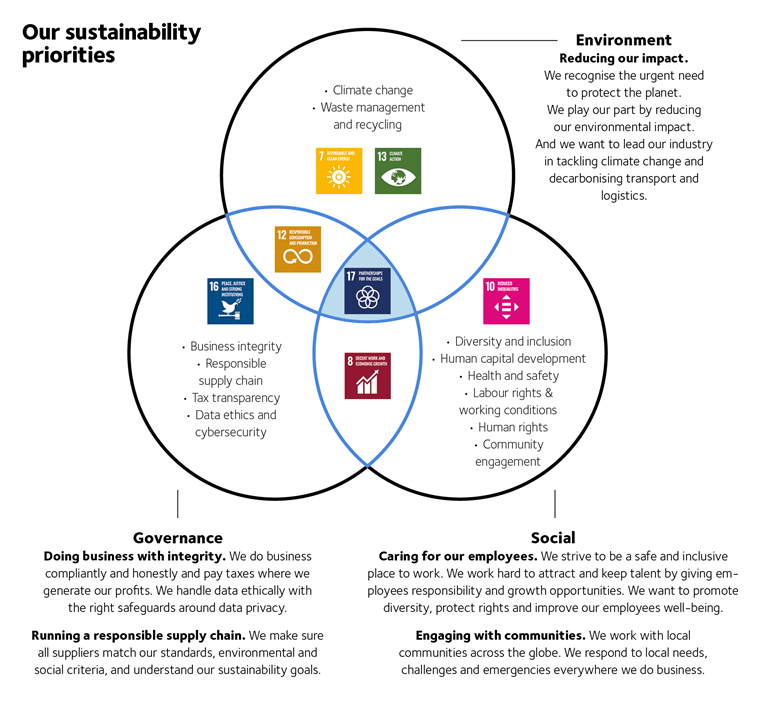 Every year, we evaluate and set targets within these three areas. The targets are monitored through continual progress tracking, ensuring that our organisation works towards common goals and that efforts and resources are properly prioritised and coordinated.

As part of our ongoing strategy development, we also engage in close dialogues with our customers, investors, employees, suppliers and the authorities in general. These dialogues form the basis for our underlying materiality assessments. They also enable us to manage stakeholder expectations and receive valuable input on how we impact our surroundings and vice versa.
Any questions?
Contact Martin Andreasen, Executive Vice President, Group Compliance