Structured and transparent corporate management
As a listed company, we strive to ensure a high level of transparency towards our stakeholders on how we manage and operate our company. We do this through an active and open dialogue and by applying established governance frameworks as the basis for how we organise and practice our management principles.
Our approach to corporate governance is founded on an established governance codex issued by the Danish Committee on Corporate Governance. In addition, it also considers recommendations provided by our proxy advisors and various international rating agencies.

Governance at DSV rests on solid internal and external processes, ensuring accountability of our activities. These processes are anchored at our highest management levels at the Board of Directors, Board Committees and Executive Management.
Governance as the basis for our ESG strategies
At DSV, we work consistently to integrate and anchor ESG within our management structures, compliance frameworks and business activities. The governance structures which support our ESG strategy are anchored at our highest management levels with the Board of Directors and the Executive Board.

The Board of Directors outlines and supervises the overall vision, strategy and business objective of our company, including areas within ESG. Supporting the Board of Directors, our Audit Committee supervises the regulatory requirements, corporate reporting as well as our risk and control frameworks to ensure proper compliance within the various areas of our business operations. The Executive Board executes the strategy and objectives set.

The DSV Sustainability Board consists of the Executive Board as well as other relevant management representatives, and it is chaired by our Group CEO. The Board facilitates our materiality, climate risk assessments and global environmental and social initiatives. It also provides input on the strategy implemented by the Board of Directors and Executive Board within our key focus areas.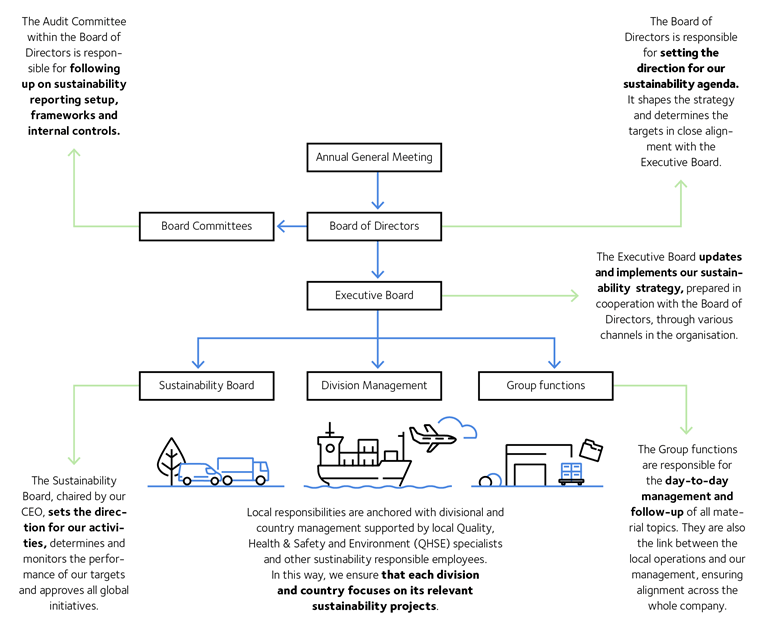 Any questions?
Contact Martin Andreasen, Executive Vice President, Group Compliance