Simplified entry-to-market logistics services are reshaping the retail environment
South Africa's eCommerce market growing at 12%+ per annum
eCommerce was growing at a steady rate pre-Covid19, but the pandemic disrupted the traditional retail market by driving consumers towards online retailers.
Logistics companies had to adapt to this new trend to meet both consumer and retailer needs at a time of disruption.
DSV's Johan Roos and Christopher Rugg say eCommerce's growth and future potential is being driven by consumer safety, accessibility and convenience needs. They point out that it is also broadening the retail space because it offers entrepreneurs exceptionally low barriers to entry.
"A growing number of shopfront platforms are creating low barrier opportunities for entrepreneurs. This is especially powerful when coupled with end-to-end logistics solutions which offer order fulfilment and eliminate the need for retailers to own warehousing and delivery vehicles. DSV shares the vision of a diverse and expanding eCommerce market and is investing accordingly", says Roos.
The latest NielsenIQ Barometer Study, which surveyed 11 000 consumers from 12 different countries including South Africa, found "53% of grocery purchasers bought groceries online in the past 6 months, of which 16% bought more than half of their groceries online."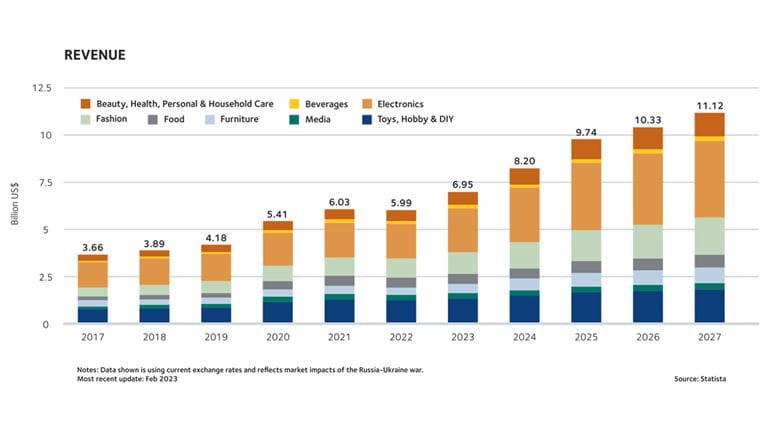 Statista, a leading provider of market and consumer data, says eCommerce revenue is "expected to show an annual growth rate (CAGR 2023-2027) of 12.46%, resulting in a projected market volume of US$11.12bn by 2027."
Statista also expects the number of users in the retail delivery segment to reach 5.8m by 2027, and "user penetration will be 7.2% in 2023 and is expected to hit 9.1% by 2027". "Revenue in the retail delivery segment is "projected to reach US$0.64bn in 2023. Revenue is expected to show an annual growth rate (CAGR 2023-2027) of 10.49%, resulting in a projected market volume of US$0.96bn by 2027."
Roos and Rugg say the data confirm DSV's experience of a South African market that's growing exponentially. Importantly, outsourcing your fleet reduces cost and risk for new and existing businesses.
Utilising their customer centric software ClientZone, DSV customers have access to an end-to-end logistics solution. Collection and delivery addresses are verified and georeferenced up front to ensure first time collection and delivery.
DSV can integrate customer's order fulfilment needs with online shopfronts such as Shopify, Magenta and WooCommerce, and this leaves the retailers free to focus on their core business. DSV's solutions include:
Easy on-boarding
Address verification
Inbound customs clearance
Warehousing (whether in a single market or multiple locations)
Several picking and packing options, including automation and
Sustainable returns handling
DSV effectively gives entry level and smaller retailers the same fulfilment capabilities that larger rivals enjoy.


"A customer can start with a cash account with DSV and access all the benefits we offer, nationally and internationally. As your company grows and becomes an account holding customer, we provide a dedicated sales organisation that can support you to expand your reach at tailored pricing and provide industry insights relevant to you", says Roos.

In addition to these services there are now more than 457 DSV Lockers strategically located at fuel forecourts and other publicly accessible locations around the country.
This means a consumer or business can send or receive a parcel at any time at a discounted rate, adding another dimension to fulfilment.

"The DSV Locker is a popular any-time courier option which offers flexibility and convenience because the driver, parcel, recipient or sender don't need to be in the same place at the same time," says Roos.

Roos and Rugg say there's no limit to what online shops are selling, from solar equipment to pet accessories, jewellery, and alcohol, and they are using both DSV's courier options as well as the DSV Locker to reach their customers.
Any questions?
Our experts are ready to help. Get in touch and we'll find the solution you need.