Mining opportunities beckon in Africa
DSV keeps supply chains flowing in key markets
Africa houses about 30% of all known global mineral reserves. Mining houses require specialised transport and logistics services to deliver machinery, equipment, and parts to mines, as well as moving mined commodities to end destinations.
Multimodal logistics solutions involving road, rail, air, and sea are essential links for the mining industry supply chain – especially in an environment challenged by political and economic instability, policy uncertainty and inadequate infrastructure.
Edrich Koen, Regional Vertical Lead, Mining Africa, Air & Sea said both major and more junior mining companies had demonstrated intent to be active in Africa – and an increase in the quantity and value of resources harvested to produce electronic devices, particularly those to do with energy storage, is proving attractive.
China is a major manufacturer of electronics and its demand for raw materials is high, Statista . com said its "outward FDI (foreign direct investment) stock in Africa's mining industry totalled more than 8.9 billion U.S. dollars in 2020."
Electrical products require different minerals, most of which are found in Africa, including copper, nickel, cobalt, lithium, manganese, and rare earths. Gold and diamond mining remain among the most profitable minerals produced in Africa, particularly South Africa, Botswana, the Democratic Republic of Congo (DRC) and Ghana. South Africa also has much of the world's platinum reserves.
Cobalt is necessary to produce lithium batteries. The demand for these batteries, used in portable electronic devices, energy storage systems and electric vehicles (EVs), is booming. "It's estimated that roughly half of global cobalt reserves are in the Democratic Republic of Congo's (DRC) copper belt, and in 2021 the country's cobalt production was an estimated 120,000 metric tons", said Koen.


The Democratic Republic of Congo (DRC) is also the largest global producer of tantalum, which is also used in electronic equipment such as mobile phones, laptops and automotive electronic applications.
According to a projection by IDTechEx, the market for lithium-ion battery cells used in electric vehicles (EVs) will be worth almost 70 billion USD by 2026. Given the growth of this market, the mining and acquisition of cobalt is undoubtedly a great opportunity for the sector's expansion and increased production.
As the energy storage market booms – it is set to grow 15-fold by 2030, according to a 2022 article by BloombergNEF – so too will the mining industry's need for exploration and increased production as it tries to meet the demand of mined cobalt and other necessary minerals. The logistics and supply chain industry will need to adjust accordingly to facilitate this growth.
DSV is actively supporting mining operations and projects across Africa creating close working relationships with leading mining houses and Engineering, Procurement, Construction management (EPCM) companies on their specialised transport requirements. Major active projects across Africa are found in South Africa, Zimbabwe, Ghana, Tanzania, the Democratic Republic of Congo (DRC) and Zambia with the aim to produce gold, copper and PGM at these sites.
While Africa offers enormous opportunities in mining and minerals, there are challenges which need to be confronted. They include:
Inadequate or entirely absent infrastructure. "Mines are generally in remote locations and the lack of infrastructure makes it more difficult to establish and maintain mines as well as mining projects. DSV often relies on the experience and know-how of in-country agents when designing a solution for these sites including planning of routes for mining equipment transport.", Koen said.
Political instability and policy uncertainty. Regulations and policies liable to constant change increase the likelihood of operational uncertainty and cost overruns which deter foreign investors. An iron ore project in Guinea typifies the problem. It was bogged down by competing interests and took twenty years to move from concept to operational project.
Security is an ever-present concern, with increased chances for civil unrest, protests and even armed conflict in politically unstable regions, the potential for interruptions and risks to personnel can lead to inflated security costs, transport and supply chain interruptions and even operational shutdowns.
Koen said DSV's understanding of supply chain requirements in Africa have been shaped by decades of working on the continent where mining re-supply teams and networks deliver globally competitive solutions to drive costs down while improving reliability.
International freight forwarding services to mining operations included airfreight, sea freight and cross border road freight, cross trade service and global mining consolidation centres.
Other key service areas offered by experienced DSV operational teams include:
Project management and support for both greenfield and brownfield projects.
Abnormal and out of gauge movements.
Aircraft and vessel charter services.
Account management at various levels for mining houses,

Engineering, Procurement, Construction management (

EPCM) and suppliers.
DSV in Africa at a glance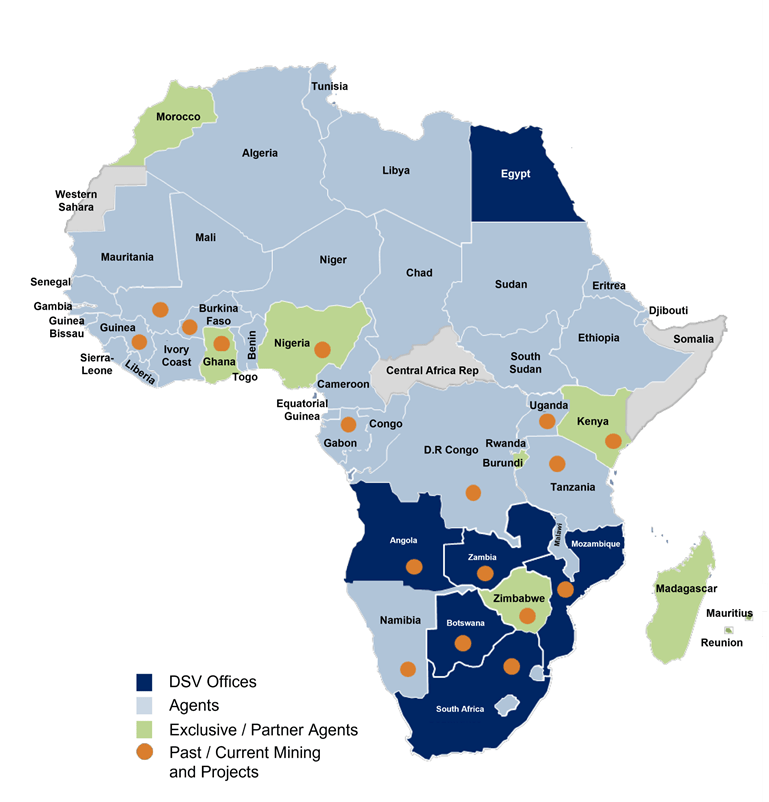 Any questions?
Our experts are ready to help. Get in touch and we'll find the solution you need.