Construction of DSV's new Gauteng HQ resumes; earthworks completed in CT
Occupation dates pushed out after Covid19 delay
2020/08/14
The DSV Park | Gauteng site between Johannesburg and Pretoria is again a hive of activity after construction came to a halt during stages 5 and 4 of the Covid-19 lockdown.

But when the site re-opened in June, it did so with a range of health and safety measures to prevent the spread of Covid-19, including scanning stations, additional wash basins and segregated spaces in the rest areas to allow for social distancing.

Situated near OR Tambo International Airport, DSV Park | Gauteng will house a logistics warehouse of 79 000 m², a cross-dock facility of 39 000 m² and office space of 10 000 m².
The occupation dates have been pushed back slightly to January 2021 because of the construction delay.
Some of the key construction features underway include:
The administrative office structure (below) was finished by the end of July and will be ready for occupation in mid-January 2021.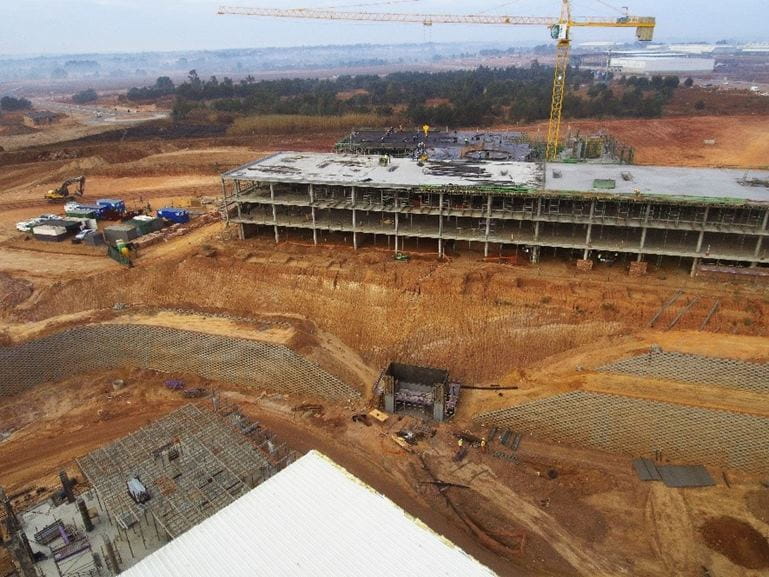 Construction on the sorter mezzanine level has started, and the first 20 of 100 sorter containers have been dispatched from Italy via DSV Air & Sea.
The warehouse steel structure will be completed at the end of July, and all columns have been casted and filled.
The external load houses and sectional doors are being installed at the X-dock, and the electrical and IT first fix is almost complete.
The main staff ablution block was completed by the end of July.
Then (above– March 2020) and now (below – July 2020): The cross-dock facility (on the left) is largely completed from the outside, while the installation of the roof and side walls have made significant progress in the warehouse (on the right). The columns are lifting out of the ground towards the edge of the warehouse (at the top of the picture). In the middle of the picture, the staff ablution facility is nearing completion.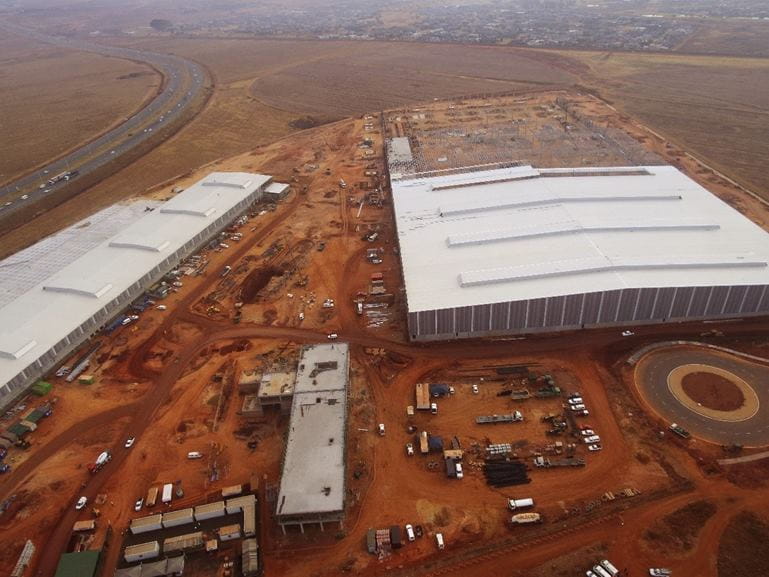 Meanwhile, more than 220 000 m³ of earth has been moved at DSV Park | Cape Town as work on the new Western Cape headquarters steps up a few gears. Construction workers have moved on site, which is now cordoned off by 900m of external fencing.
All six DSV business units – and 750 employees – will be housed in the new facility which is situated at Solar City, just next to Cape Town International Airport. Occupation is expected in July 2021.
Casting of the tilt-ups and columns has started and the main contractor has moved on site.
Machines on site include a 130-ton crane, two 25-ton cranes, one 8-ton crane, two 20m cherry pickers, one 20-ton excavator, two 10m³ tippers and one TLB.
More than 24,000m³ of concrete and 1,2 million tons of steel will be used in the project.
Image: Cape Town team at the new site
Any questions?
Our experts are ready to help. Get in touch and we'll find the solution you need.