Industrial Engineer Award for Irene Saji
Pragmatism – and an enquiring mind – behind Irene's success
2020/10/15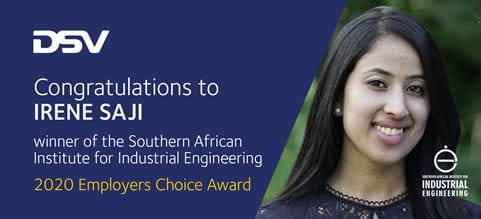 Congratulations to Irene Saji, one of our young Industrial Engineers, who won the Southern African Institute for Industrial Engineering's 2020 Employers Choice Award recently.
Irene joined DSV in 2018 directly after finishing her undergraduate studies. She was part of our graduate programme and today contributes significantly to our work in a number of fields, including Robotics Process Automation, Internet Of Things and Continuous Improvement.

Irene has a BEng (Industrial Engineering) from the University of Pretoria, and her colleagues put her success down to her pragmatism with analytical work and in her interaction with people.

When accepting her award, she said one piece of advice she had for new graduates was to never be afraid to ask questions. "Ask questions not just when you're struggling with something, but also with the intention of getting your colleagues' opinions on your work. In this way, you're not just learning through your own experience, but also through the experience and perspectives of your colleagues."

We wish Irene continued growth and success, and believe she will be an inspiration to other young Industrial Engineers in our midst and beyond.
Any questions?
Our experts are ready to help. Get in touch and we'll find the solution you need.