New-look Team DSV ready for 2021
2020/12/22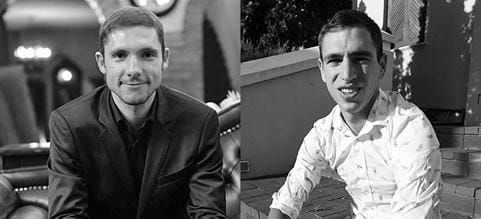 Team DSV has a new line-up for 2021, with Nicol Carstens and Jacques Janse van Rensburg replacing the successful duo of Gert Heyns and Arno du Toit, who have raced in DSV's colours for two years.

Team DSV is managed by Lange Sports, and Malcom Lange says the new riders will challenge for podiums in both the increasingly popular gravel road races and traditional mountain bike marathon and stage racing.

Nicol and Jacques are a blend of youth and experience as well as mountain biking and road cycling pedigree, ideal for the altered events landscape.

"Thanks to DSV and our other sponsors for their support during an incredibly tough year we are able to not only complete 2020 as a racing team, but also look forward to the future with fresh faces", said Malcom.

The sponsorship builds DSV's brand in within key decision makers. We need people who buy logistics services to know who we are and what we do. With its high LSM and large percentage of business decision-makers, the mountain bike market in South Africa is an ideal platform to strengthen DSV's brand.

Nicol has already delivered impressive results in UCI-rated races in his short career, and Carstens has been a member of the Imbuko Giant team for the past two years where his highlights include finishing second in the African Team competition at the 2019 Absa Cape Epic, third at the 2019 Momentum Attakwas Extreme and two stage wins at the 2019 Momentum Cape Pioneer Trek, all three UCI-graded events.

The team will contest all the major one-day and multi-stage mountain bike races in South Africa in 2021, including the Attakwas Extreme, Momentum Tankwa Trek, Absa Cape Epic, KAP sani2c, FNB Wines2Whales and the Cape Pioneer Trek. The South African Marathon Championships in Paarl in late February will also be a high priority event. Nicol and Janse van Rensburg will also contest high profile gravel races such as Race to the Sea and Race to the Sun, as well some road races.

"Our main goal as Team DSV for 2021 is to win the African Jersey at the Absa Cape Epic. For all the other major races our goal is to finish on the podium," said Pretoria-based Janse van Rensburg, who in 2020 made the switch back to mountain biking after road racing on the UCI WorldTour circuit for eight years.
Information and communications technology company, iOCO will continue to be Team DSV's co-sponsor in 2021. The team will continue to race on Norco bikes fitted with DT Swiss suspension forks and Michelin tyres; will be protected by 100% eyewear and dressed in Enjoy racewear and Sox socks. The riders will be fuelled by Powerbar. Additional support will be provided by Compendium Insurance Group, Gazebo World, South Industries & Bené.
Follow Team DSV's progress on social media:
Twitter: @DSVProCycling
Instagram: @dsv_pro_cycling
Facebook: Lange Sports
Any questions?
Our experts are ready to help. Get in touch and we'll find the solution you need.