The vaccine Journey to all South Africans
From source to vaccination distribution point highlights DSV's end-to-end capability
2021/02/26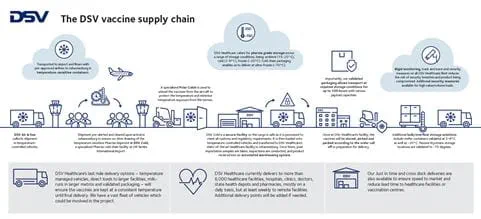 It will soon be time to start distributing vaccines for the general population throughout South Africa and our infographic shows you how the journey would unfold. Our country has robust distribution capabilities, and we at DSV are certainly ready to play our part if asked to do so.
The infographic shows the vaccine journey from the point of origin into South Africa, and then on to vaccination points around the country. DSV has submitted proposals for both Importation Services and Logistics Services in response to the Department of Health's RFP for "The provision of importation services and logistics services for COVID-19 vaccines to the national Department of Health for the period 01 April 2021 to 31 December 2022".
We have a strong presence throughout South Africa, and we have the experience, distribution and cold chain capabilities, and the capacity to support the rollout of vaccines to communities around the country. We acknowledge the critical importance of the task at hand and are ready to distribute vaccines, safely and securely.
Any Questions?
Our experts are ready to help. Get in touch and we'll find the solution you need.