Navigating the channels
An omnichannel experience for online retail provides many advantages
2021/03/17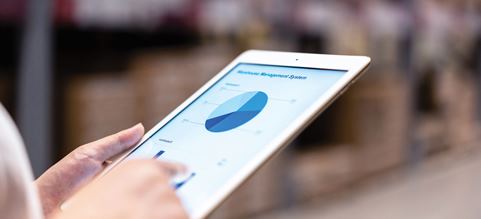 The shift towards omnichannel operations is a defining feature of the modern-day retail sector. Of course, the implementation of omnichannel models can also pose challenges to supply chain management processes, adding increased layers of complexity that businesses have to navigate in order to succeed. Online sales currently only account for around three per cent of South Africa's total retail operations, but due to the impacts of COVID-19 and increased smartphone penetration, this number is already around double that of last year, according to Mungo Park, DSV's senior key account director for sub-Saharan Africa and former president of professional supply chain body SAPICS. Park explains that
"By 2024, we can expect that percentage to double again, and online retail may eventually grow to around 20 or 25 per cent of total retail sales. Comparatively, growth in the bricks-and-mortar retail sector is in the small single figures. Online retail is definitely where the growth is, so it makes sense for companies to invest in omnichannel strategies."
Easy does it
Notwithstanding the growth of the online retail sector, many bricks-and-mortar retailers have adopted a slow and cautious approach to implementing omnichannel strategies. Rightly so, says Park, as the shift towards multiple channels can come with a variety of challenges to supply chain management costs, efficiency and customer service.
"For traditional bricks and-mortar retailers who have an established footprint, adding an online solution can initially be expensive. From extra packaging expenses, to delivery costs, and the potential charges of having to facilitate the return of unwanted items from online customers, the traditional pricing models that these retailers use have to be tweaked. Businesses sometimes battle with this transition."
Park points out that different channels require different technologies to process and ensure that the supply chain runs smoothly. "You need to have a sound technology base in place to manage shipments, and ensure accuracy and speed of delivery. Customers want tracking functionalities that tell them where their delivery is and when they will get it. Product availability and management of stock are crucial, as well as ensuring that the product is the right size and colour."
Process improvement
If businesses do not ensure that these processes run smoothly, the results can be detrimental for both the costs of delivery and customer satisfaction. "If the online customer receives the wrong product or isn't satisfied with the product, then businesses need to initiate return processes, which can be expensive and tedious," Park says. "Accuracy of delivery is therefore crucial. "At the same time, businesses need to have a sound reverse logistics structure in place, so that returns can be done as quickly as possible and customer satisfaction can be maintained.
Customers are also increasingly expecting faster deliveries, and a company's reputation can quickly be harmed by online ratings from customers who have had a bad experience." Research from global management consulting organisation McKinsey & Company has found that an online order's cost per unit can easily be four to five times higher than traditional brick and-mortar replenishment, and 10 times higher than wholesale fulfilment. However, in its report, Supply chain of the future: Key principles in building an omnichannel distribution network, McKinsey points out that omnichannel can bring immense value, if correctly implemented. "Building out the omnichannel experience can bring huge value for retailers, e-tailers and vertically integrated players with direct-to-consumer businesses; our research has found that customers shopping online tend to buy more, and customers that pick up online orders in store often make additional in-store purchases," states the report. McKinsey further suggests that companies looking to build a successful omnichannel supply chain should focus on key building blocks.
These include digitisation, customer-centric supply chain models, network capabilities and fast, reliable customer service. "Enabling a truly end-to-end omnichannel experience requires a new way of supply chain thinking," says the report. "The supply chain needs to be readjusted based on changing market conditions, and players should pursue an agile approach that enables them to adjust quickly to changing trends, options, and customer expectations."
Source: https://issuu.com/sundaytimesza/docs/supply_chain_feb_2021/46
Any questions?
Our experts are ready to help. Get in touch and we'll find the solution you need.