DSV Panalpina completes acquisition of Globeflight
DSV Panalpina completes the acquisition of South African-based Globeflight Worldwide Express after the relevant competition authorities have approved the details in the agreement. The deal was initially announced in December 2020.
2021/05/04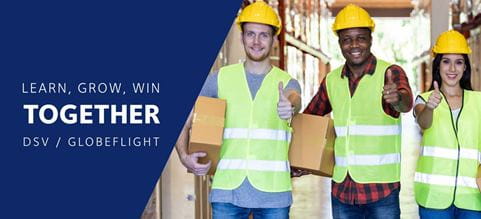 DSV Panalpina acquires Globeflight Worldwide Express, a South African based courier company. The acquisition includes all Globeflight's operations in South Africa and Swaziland and will immediately be able to fortify DSV Panalpina's presence in the small express parcel courier sector.
The acquisition is consistent with DSV Panalpina's global strategy of growth through acquisitions while at the same time being a strategically important step for DSV Panalpina to serve customers in the growing express and small parcel market in South Africa.
The acquisition of Globeflight constitutes a great match for DSV in South Africa while at the same time tapping into our global M&A strategy. Both have a culture that is performance-driven and customer-centric and the client fit is complementary and provides room to grow. DSV Panalpina's courier business typically centres on larger clients, while Globeflight's strength is in the express and small parcel market with a particular emphasis in the critical B2B market," says Keith Pienaar, CEO, DSV Africa.
A strong commitment to South Africa
The transaction reflects DSV Panalpina's huge confidence in and commitment to South Africa. It both coincides with the substantial investments in infrastructure and transport management systems which enable increases in productivity and efficiency and the investments the group is making in building large-scale logistics facilities in Gauteng and the Western Cape.
"Together with our new colleagues from Globeflight, we enable further growth for the combined entity while we continue to strengthen our services in and commitment to South Africa. Therefore, I am very pleased to be able to welcome the Globeflight organisation to DSV Panalpina,"
says Keith Pienaar.
The combined business will have approximately 4,000 employees serving approx. 12,000 customers across Southern Africa.
After the acquisition, it is expected that more than 11 million courier shipments per year will be moved, which represent an increase of 30 per cent in volumes for DSV Panalpina in South Africa.
Any questions?
Our experts are ready to help. Get in touch and we'll find the solution you need.