DSV Empowerment Trust graduate saves lives across Africa
Medical rescue by air and sea (and on land)
2021/12/29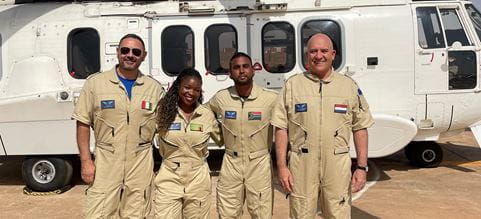 From left to right Mr P Gizzi (Flight Nurse), Dr N Simakoloyi (Emergency Physician), Dr S Moonsamy (Flight Doctor) and Mr E Botha (Flight Paramedic).
Nine-year old Rodwell Nkomazana's much publicised medical evacuation from Zimbabwe to the Sandton Mediclinic for reconstructive surgery was a deeply rewarding moment for a young doctor – and as it happens, for the DSV-Empowerment Trust (DSV-ET).
Dr Sayuren Moonsamy had spent weeks fundraising and planning with trauma nurse Maqshuda Kajee to bring Rodwell to South Africa after he had been mauled by a hyena.
While Rodwell's arrival in June 2021 brought an end to Sayuren's involvement in the story, it lifted the lid on Sayuren's action-packed but emotionally draining commitment to medical evacuations and emergency medicine – and his connection to DSV.
Where it all began
Sayuren had been trying to find a way to raise funds to study medicine when a neighbour nominated him to the DSV-ET for consideration – and it wasn't long before he was on his way to the University of the Witwatersrand in 2009, with his DSV-ET bursary covering all his study and accommodation costs.
"The fact that all my costs were covered was such a help as it meant I could focus on my studies and not work part-time like many of my classmates," he says. Sayuren's focus and hard work paid off and he graduated with an aggregate of 80% on the Dean's List.
The DSV-ET bursary altered the course of Sayuren's life as it has for many of the more than 600 graduates in Medicine, Law, Engineering, IT, Accounting and Marketing who have benefited from the Trust's support.
In 2015 Sayuren went to the Steve Biko Hospital in Pretoria to do his internship, and then he moved to Rustenburg in 2017 to do his community service. "Getting the bursary was my first life changing experience, and my second one occurred in Rustenburg and set me on the path I have followed for the last few years." Instead of being placed in paediatrics, his first choice, he found himself in the emergency section.
It's been a roller-coaster of an adventure since then. He joined ER Consulting Inc when he had finished in Rustenburg and was assigned to the Sandton Mediclinic's ER department. It didn't take long before Sayuren had become a flight doctor and soon after that he was asked to head up the unit. During this time, he was personally involved in 33 medical evacuations in 16 different African countries, including Mali, Ethiopia, and Burkina Faso, and worked with full PPE kit in 37 degrees Celsius in Mozambique.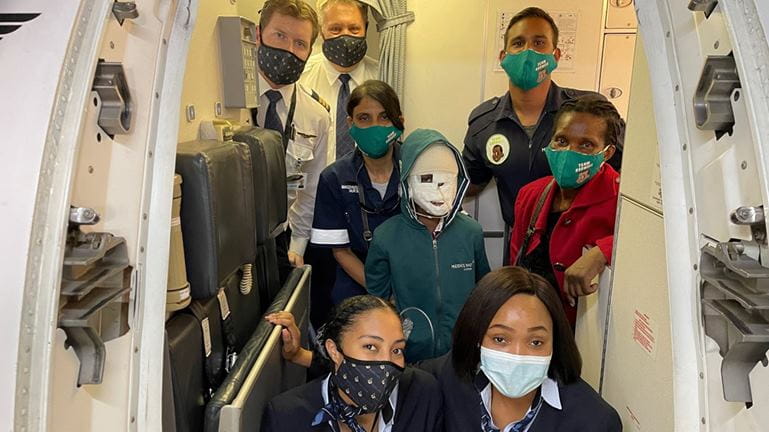 Sayuren was appointed to head the emergency department at the Sandton Mediclinic – just in time for Covid19, the worst pandemic in living memory. There were no protocols to follow, and no previous experience to prepare Sayuren and his colleagues for what was about to happen. By the end of the "third wave" in August 2021, Sayuren was exhausted and, along with many of his colleagues, demoralised by the extent of the pandemic and its impact on patients.
He needed time out and left for a short-term contract in Mali before returning to South Africa and ready for his next challenge: in the new year, Sayuren is moving on from air to sea, and joining an ocean cruise company in January. "I've done fixed wing and helicopters, and now it's time for ships," he says. "Hopefully, one day, I'll get to the Antarctic or Artic."
Sayuren already has an eye on life after adventure-medicine. He has registered for a Master's in Philosophy in Emergency Medicine through UCT and hopes that one day he can combine teaching with travel.
About the DSV-Empowerment Trust
Established in 2004
First 18 beneficiaries in 2005; the Trust supported 57 beneficiaries in tertiary institutions in 2021 and expect to have at least 80 studying in 2022
More than 600 graduates to date
Black women account for more than 60% of beneficiaries
89% of beneficiaries are younger than 35
The DSV-ET offers tertiary education to any Black South African permanently employed by a DSV group company or is a legal or financial dependent of a permanent employee of a DSV group company or was nominated by permanent employee of a DSV group company
Any questions?
Our experts are ready to help. Get in touch and we'll find the solution you need.