Youth cycling academy emerges from lockdown blues
DSV's cycling sponsorship shifts gears to developing young talent
2022/02/15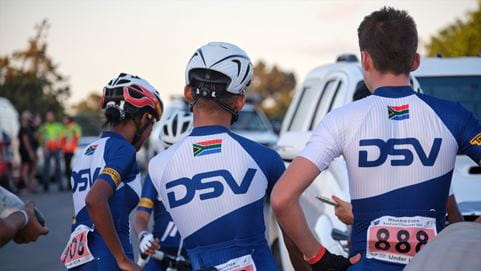 When Covid19's lockdowns interrupted DSV's cycling programme with Lange Sports, former cycling champion Malcolm Lange took the time to develop a concept that would better suit DSV's commitments to an active work-life balance and youth development.

After months of preparation, DSV and Lange Sports have partnered to launch the DSV_SHIFT_Academy, a youth cycling academy which will develop talented young riders.

The academy is a natural progression for DSV's involvement in cycling and aligns with other company youth development initiatives in South Africa, and with DSV Active, a company programme which celebrates healthy minds and healthy bodies and encourages a healthy work-life balance. DSV and Lange share a vision of developing promising cyclists into well-rounded, responsible adults.

The academy is based at the Paarl Stadium where the Velodrome provides an ideal 'home base' for the fifteen young cyclists between 13 and 18 who are already training and racing in DSV's colours – and winning podium positions.

Malcolm Lange is an Olympian and winner of more than 400 road and track cycling events and understands better than most the need for a stable, well-resourced training environment. Long time associate and teacher Elrick Kulsen will manage the academy which has also created community work opportunities for a bicycle Mechanic and a Social Media Manager.

In addition to standard physiological coaching, DSV_SHIFT_Academy members will attend educational talks from experts on a range of topics from life skills advice, social media skills, to bicycle maintenance and racing tactics. Grade 10, 11 and 12 members will also get career guidance and parents will be kept regularly informed.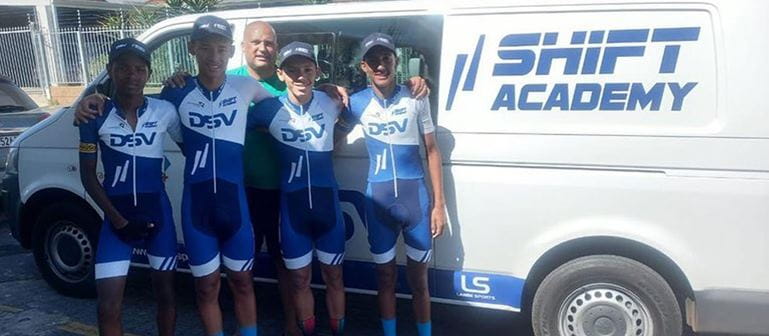 The riders head from school to the DSV_SHIFT_Academy to complete their homework before training on the track and surrounding roads. The training is supervised and based on each rider's level and goals with a professional coaching plan, and there is race entry and race day support, and the overall focus will be on grooming the riders to reach provincial and national level.

Other partners include Avacare Health, TechnoGym and Big Box.

The first intake has been finalised and comprises:
Males - Under-15: Yahyaa Martin, Adrian Jacobs; Under-17: Theo Williams, Junayvin Arries, Morgan Jones, Zaydon Matthee; Junior: Zareef Green, Vincent Julies, Ethan Kulsen, Tawfeeq Shira, Duwayne Adams, Threshlin Mondsinger, Jaden Andrews
Females – Junior: Fjorn Lacky, Shakira Swartz.
Any questions?
Our experts are ready to help. Get in touch and we'll find the solution you need.