The changing face of logistics
#BreaktheBias - International Women's Day 2022
2022/03/07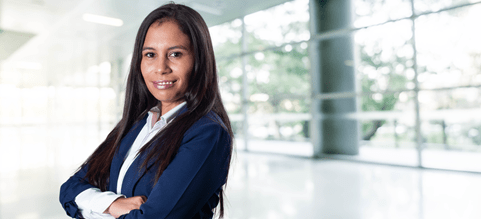 The face of logistics is changing.

And DSV's diversity and inclusion drive is shattering glass ceilings as more and more women emerge in leadership positions.

Munirah Sallie believes she – and women like her – are helping change the face of logistics and break its traditional bias towards men.

"I am comfortable and confident to be in a meeting where I am one of a few women – or sometimes, the only one – in a room".

People empowerment is important to Munirah. "I make it my duty to take what I have learnt over 16 years at DSV, and teach, mentor and motivate my team to develop and grow".

Munirah's strengths – her strong work ethic, a passion for people, processes and drive for service excellence – are not unique to women but have flourished at DSV because its culture of diversity and inclusiveness "doesn't see me as 'a woman' but a person that they have invested in".

She has participated in many training and development programmes which have helped push her from "ordinary to extraordinary", as have her managers, both men and women, who have encouraged her to believe in herself. "About a year ago, I was offered a position as Senior Manager Operations, but didn't think I was ready because of my limited knowledge of finance. My director, Andrew Holiday, pushed me out of my comfort zone and a year later it's another challenge conquered!"

Opportunities are plentiful, but it's what you do with them that sets you apart – and taking opportunities is key to Munirah's "relentless ambition, optimism, persistence, and desire for continuous improvement."

As we celebrate International Women's Day 2022, Munirah's advice to young women entering logistics is to "be strong, patient, and confident, work hard, take constructive feedback and learn from it. Learn it all, not just your job, and ladies please, empower each other".
Any questions?
Our experts are ready to help. Get in touch and we'll find the solution you need.