DSV's new super centre in Germany officially inaugurated
DSV Krefeld is home to all three divisions in a very central location in the North Rhine-Westphalia area, close to the A57 Motorway, Düsseldorf Airport as well as the Belgian and Dutch borders. The new site replaces the former DSV locations in Düsseldorf, Duisburg, Neuss, Nettetal and Willich.
25-09-2015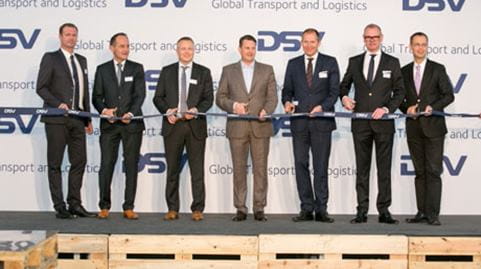 Friday 18 September was the official big opening, although the office, terminal and warehouse have been in operation since June. The consolidation of the DSV sites in the area has been a gradual process with the divisions and departments moving in one after another over the course of the summer. The actual moves all went very smooth with no operational delays.   
"In Krefeld, we have consolidated eight former German DSV sites. The facility is now shared by all our three divisions, promoting cooperation, economy of scale and One DSV," Brian Winther Almind, Group Property Director, comments.      
The grand opening on Friday 18 September was attended by 300 external guests, including regional political and business leaders as well as both the German and Executive DSV Management teams. On Saturday 19 September, the employees and their families enjoyed a well-deserved day of celebration with train journeys around the facility, food and entertainment for the kids.      
400 employees in an architectural gem      
The architects AK83 who have designed the Krefeld site call it big and beautiful. And it certainly is big: A total ground area of 168,000 m2 is home to a 50,000 m2 warehouse, a 12,000 m2 cross-docking terminal  and 6,500 m2 office space – leaving plenty of room for growth.      
Another  5,000 m2 cross-docking area can easily and quickly be added. In its present state, the logistics centre is already DSV's third-largest site – Landskrona in Sweden is currently the largest, followed by Horsens in Denmark.      
Watch the Krefeld project film to get an understanding of the scope.      
The latest and greatest      
The property has been developed according to modern standards for energy efficiency and sustainability. The aim is to obtain the DGNB Certificate Silver, and a pre-certification has already been granted. In addition, the warehouse and terminal have been designed and built to meet all known logistics demands and challenges.      
"If it's possible, it's possible in Krefeld," Bart Peeters, CEO DSV Solutions Germany, says. 
       
The location is close to ideal in the North Rhine-Westphalia area, close to the A57 Motorway, Düsseldorf Airport as well as the Belgian and Dutch borders. Furthermore, the major ports in Rotterdam, Antwerp, Wilhelmshaven, Bremerhaven and Hamburg are all accessible within three hours driving time.      
We look forward to servicing and welcoming you at DSV Krefeld.       
Krefeld contact details      
DSV Air & Sea GmbH / DSV Solutions GmbH / DSV Road GmbH
Nirostastr. 3 (truck entrance: Hans-Günther-Sohl-Straße 1)
47807 Krefeld - Germany
Phone: +49 (0) 2151-7371-0