Opening trailer workshop no. 5 in 2015
Since March this year, DSV Equipment has opened a total of five workshops in Central Europe and Scandinavia. The last one – in Gothenburg, Sweden – opens 2 November.
22-10-2015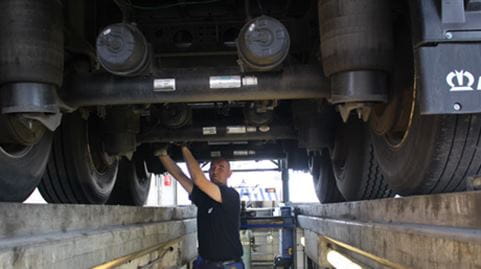 The object is to keep our transports moving with a minimum of downtime. The best way to ensure this, we have found, is to provide our own fast, competitive and reliable trailer service. And so we are expanding our network as quickly as possible to obtain full European coverage.
"We are thrilled to have been able to open five workshops in ten months. And we are even more thrilled to welcome another eight highly qualified mechanics to our team".
– Flemming Steiness, Equipment Deputy Manager
The repair centre in Gothenburg
On 2 November at 7 am, eight full time mechanics will be ready to welcome the first customers. The workshop is open to trailers operated by DSV as well as by other freight forwarders and hauliers.
The mechanics will be working across 7 lanes, and they also have a tyre machine at their disposal, allowing them to quickly change tyres on the spot. True to the DSV repair centre concept, we have equipped the new workshop with state-of-the-art management systems, enabling our mechanics to view work orders, information on the trailers and other information from a single screen. Time spent on a repair will be scanned directly into our workshop management system, no paper and no time wasted.
Like Landskrona, the centre in Gothenburg has a contractual partnership with Besikta who is authorised to carry out Swedish MOTs. This will enable the Gothenburg team to offer customers great flexibility six days a week. We expect to carry out 1,500 MOTs a year at our new site.
In addition to drive-in services (full range of trailer repair and maintenance), the centre offers mobile trailer service – electric repairs, tilt repairs, EBS and tyres etc. This service covers a geographical radius of 150 km.
The new trailer service centre is right next to the Port of Gothenburg:
Opening hours are weekdays: 7 am to 6 pm
Find and read more about our repair centres
DSV Repair Centre in Landskrona, Sweden