The Highest Quality Warehouse Logistics
DSV Poland wins the special award for the Highest Quality Warehouse Logistics
14-12-2015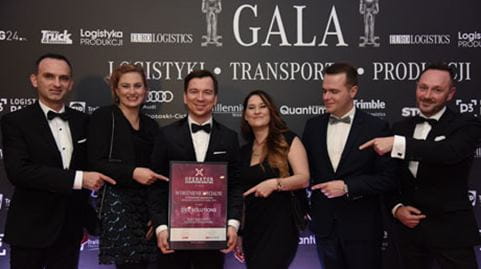 DSV Poland has been recognised with a special award for the Highest Quality Warehouse Logistics following the annual "Logistics Operator of the Year 2015" survey conducted with the participation of Polish logistics customers.
"Logistics Operator of the Year" is a survey of leading logistics providers in Poland. Its purpose is to provide market participants with knowledge about customers' needs and their level of performance. Based on the survey results, the companies are ranked and recognised in several categories to promote logistics services of the highest quality. The survey is conducted by Eurologistics Magazine and Data Group Consulting.
The award ceremony, which was the largest meeting of supply chain top management in Poland, took place on 3 December at the Sofitel Victoria Warsaw Hotel. Upon accepting the award, MD, DSV Solutions Poland, Maciej Walenda said: "We are extremely proud of this award and a big thank you goes out to all of the customers who participated in the survey. Our results are driven by our dedicated team. Every day they fight to deliver the highest quality of service. I would also like to say that this award motivates us to do even more. We intend to continue to strive for perfection in the solutions for our customers".