Saying it with flowers
With Valentine's Day around the corner, vast numbers of flowers will shortly be offered and cherished. Panalpina Airflo organizes over 2,000 tons of fresh-cut roses from Kenya to Europe in the days running up to Valentine's Day. The extract from a recent interview show how we ensure that fresh cut flowers arrive perfectly at their destination.
04-02-2016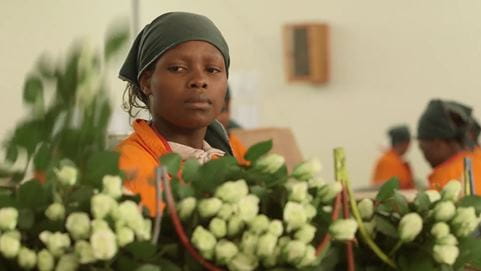 With Valentine's Day around the corner, vast numbers of flowers will shortly be offered and cherished. Assisting customers to respond to this peak by helping them manage the demand is vital. Panalpina Airflo organizes over 2,000 tons of fresh-cut roses from Kenya to Europe in the days running up to Valentine's Day. As Kenya's second largest air freight forwarder, specializing in the world-wide export of fresh cut flowers, plant cuttings and vegetables we ensure that the fresh cut flowers arrive perfectly at their destination. Panalpina Airflo ensures the freshness of flowers every step of the way from Naivasha, Kenya to Paris, France. 
In the following extract from a recent interview in the Kenyan Floriculture, Colin Wells, global head specialty vertical perishables at Panalpina, and Conrad Archer, managing director of Panalpina Airflo, explain why knowing the product is key to providing a high-quality service.
Panalpina  recently acquired a majority stake in Kenyan freight forwarder Airflo from Dutch Flower Group. The new entity was called Panalpina Airflo, so that Kenya's flower growers would still recognize the brand name and still experience everything it stands for. Likewise, customers will continue to receive the quality service that they are used to and, in addition, benefit from Panalpina's global reach and expertise.
What are the benefits for the customer?
Colin: A big benefit for customers is that Panalpina is great at connecting people and companies anywhere in the world, not just in Kenya and the Netherlands. Panalpina Airflo will help Kenyan growers to make the most of the worldwide opportunities available to them. The UK is an interesting market for example. We can tailor-make solutions to fit individual customer needs for the UK, because we have a combined knowledge at product origin and product destination.
Conrad: Our global reach and ability to network are definitely major advantages for our customers. Panalpina Airflo will bring different stakeholders to the table, in a way that is beneficial to everyone. We can connect growers with importers and exporters with growers. As one of the world's biggest air freight users, Panalpina also has excellent relationships with the airlines.
How important is quality and service?
Colin: Quality is key, be it for flowers or other perishables, and can only be assured if there is in-depth knowledge of a product. We call this product empathy. Most of our competitors are more interested in the kilos moved than the product moved. We guarantee a quality service that is, frankly, unmatched by others in the freight forwarding industry. Other forwarders might offer false economy because customers end up losing money through product wastage.
Conrad: We don't just move boxes from A to B — we care about what's inside the box. It goes back to what Colin called product empathy. It helps us deliver a better service and keep the product fresh. We work in partnership with our customers to meet their needs. And, because our stakeholders traditionally come from a flower-producing and flower-selling background, we understand the product.
Can you give an example of how you guarantee quality?
Conrad: We are the only specialized handling company in Kenya to offload all of our products via dock seals. The flowers go from one controlled environment to another. We also use thermal blankets to cover the flowers during transit to the apron, which no other forwarder does. These and other extras such as vacuum cooling and temperature monitoring of all shipments help us deliver a quality product.
How do you invest in business and customers?
Colin: We invest time and effort into planning complex, end-to-end solutions that maximize our global network. We look at ocean freight options, too. This also means we're CO2 conscious, as well as cost conscious. Every decision is based on how the customer will benefit. We responsibly manage the cool chain to ensure the product arrives at its destination in the optimum condition. Ultimately, our customers want accountability.
Conrad: We understand the importance of investing — in the cold chain, in infrastructure, in trying to stay best in class. We plan to invest in track-and-trace capabilities, barcoding and improved temperature monitoring systems. Supporting our customers as much as we can in the area of e-commerce is also a top priority.
What will be the impact of e-commerce on the Kenyan flower market?
Colin: We are convinced that perishables, such as flowers, are going to play a huge role in the global e-commerce revolution. Smartphones are like virtual stores and, increasingly, they'll also be used to purchase flowers. The technology is already established and so are the networks for delivery. This will be a game changer.
Conrad: The rise of e-commerce will enable growth at consumer level, for example in China and the U.S. With our combined expertise in flowers and logistics we can drive these new opportunities.
What other trends do you see for the flower industry?
Conrad: The customer wants to buy directly from the producer in Kenya. The producer in Kenya also wants to sell directly to the country of consumption. Cross-trading, or direct marketing, is a growing trend in the industry, something Panalpina Airflo will be able to facilitate globally.
Colin: If customers can go from A to C while avoiding B, it removes unnecessary costs, and also removes potential delays. Cross-trading ensures speed to market and we have the global network for that.
We are in high season. Is it business as usual running up to Valentine's Day?
Conrad: It is the usual huge peak in the run-up to Valentine's Day, so we are putting on extra charter flights to deal with the additional demand.
Colin: This is a perfect example of providing a quality service — we're allowing customers to respond to these peaks by helping them manage demand. On Valentine's Day, many flowers will be bought and appreciated, but few people will realize just how much effort and care has gone into these beautiful fresh cut flowers.