Multifaceted
The Port House in Antwerp with its distinct buildings and triangular facets epitomizes the growth and strategic location of the Port of Antwerp. The Belgian box port is the second busiest in Europe, nestled in a region that boasts one of Europe's best multimodal infrastructures. Only 500 m away, still within the port, Panalpina is turning its warehouse into a GDP certified pharma center.
05-12-2016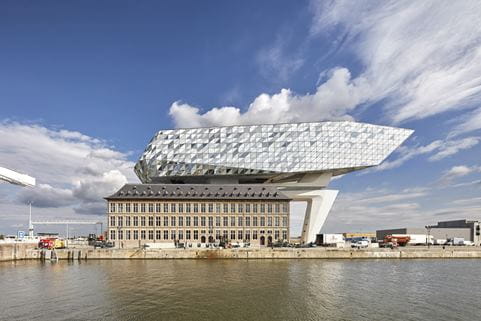 The new Port House of Antwerp: What a marvel! World-renowned Zaha Hadid Architects have put what looks like an asymmetrical spaceship on top of a former fire station. The result is jaw-dropping, as the 2,000 triangular glass panels of the futuristic extension reflect the surrounding water and the sky.
The poised Port House with its two distinctly different buildings and triangular facets epitomizes the growth and strategic location of the Port of Antwerp. Having handled a record 9.7 million twenty-foot containers in 2015, 7.5% more than in the previous year, the Belgian box port is the second busiest in Europe. Moreover, the Port of Antwerp is nestled in a region that boasts one of Europe's best multimodal infrastructures. It sits close to the point of an imaginary triangle formed by the three neighboring major air cargo hubs: Brussels 40 km to the south, Amsterdam up in the north and Luxembourg further down in the southeast.
Only 500 m away from the Port House, still within the Port of Antwerp, Panalpina is currently upgrading its existing warehouse to turn it into a GDP certified pharma center. "Healthcare companies are shifting more and more cargo from air to ocean freight, or combining the two modes of transportation to optimize their supply chains," says Andreas Sahli, who heads Panalpina's global healthcare business. "So it makes perfect sense to not only have a specialized pharma center in a port, but in particular in this port, where it becomes an integral part of our healthcare excellence network and our very broad, high-quality service offering in the region."
Many major carriers use Antwerp as the last port of call before sailing across the Atlantic to the Americas and as the first port of call in Europe when arriving from Asia Pacific. Panalpina's new pharma center will serve pharmaceutical companies as a consolidation and deconsolidation hub for outbound and inbound temperature-controlled shipments. "We can combine any mode of transportation for export and import and offer a whole host of value-added services in Antwerp such as reefer building," says Andy Cornelis, responsible for Panalpina's warehouse operations in Belgium. Panalpina's healthcare experts also label the cargo or check the labels themselves, as well as the weight and quantity. Additionally, they make sure that the cargo packaging is intact and they use special packaging material to provide passive cooling solutions. All of this happens in adherence to the highest GDP and other quality standards.
Panalpina's warehouse is the only one within the Port of Antwerp which is listed in the European RAKC (Regulated Agents and Known Consignors) database as a certified agent for the handling of secured air freight shipments. This means that combined sea-air shipments can be organized without interrupting or compromising the secure and cold supply chain.
Andy adds: "Being directly in the port allows us to shorten the reefer transport lead times to and from the terminals and gives us direct access to Antwerp's excellent port workforce." The Port of Antwerp is globally recognized for its well-trained and experienced staff as well as its reliable and highly efficient container stuffing and stripping activities.
The bonded transit warehouse accommodates two separate areas where temperature sensitive goods can either be kept and monitored at 'Controlled Room Temperature' between 15°C and 25°C, or between 2°C and 8°C. Should demand pick up as anticipated, the facility which measures almost 1,600 m2 can be immediately extended by more than 10,000 m2. Panalpina has already worked out respective plans and agreements with its local partner.
Fully extended, Panalpina's pharma center in Antwerp would then cover almost the same space as the new Port House which accommodates 500 staff on 12,800 m2. "We are not quite there yet," says Bruno Jacques, Panalpina's country manager for Belgium. "But already today, our offering is multifaceted and unique. We are the only global freight forwarding and logistics company with a dedicated healthcare facility within the Port of Antwerp and including our own GDP-qualified staff."
The Port House was officially inaugurated at the end of September 2016. Panalpina's 'Pharma House' will follow suit at the beginning of January 2017.
*Regulated Agents and Known Consignors
Table: Key features of Panalpina's pharma center in the Port of Antwerp
| | |
| --- | --- |
| Location | Within the Port of Antwerp: Straatsburgdok-Zuidkaai, 2030 Antwerp, Belgium |
| Multimodal connections | Ocean, air, inland waterways, road, rail |
| Official re-opening | Fully operational and GDP compliant as of January 1, 2017 |
| Certifications / licenses | GDP1 certified by FAMHP2 by Q1 or Q2 of 2017; TAPA3-A, AEO4 Full |
| Dedicated staff | 35 |
| Surface currently in use | 1,563 m2 in total |
| 15°C to 25°C (Controlled Room Temperature) | 1,356 m2 |
| 2°C to 8°C | 207 m2 |
| Pallet positions (Euro pallets) | 1,250 |
| Extension possibilities | 4 adjacent 'build to suit' facilities totaling 10,195 m2 can be added: 1) 2,531 m2 2) 3,682 m2 3) 1,991 m2 4) 1,991 m2 |
| 24/7 ambient temperature monitoring | Yes (SmartView) |
| 24/7 security monitoring with CCTV | Yes |
| Other services offered | Cross-docking, re-icing and re-packing, pick & pack, relabeling, dangerous goods handling |
| Truck docks | 5 in total: 4 (15°C to 25°C) + 1 (2°C to 8°C) |
1 Good Distribution Practice; EU guidelines of 5 November 2013 on Good Distribution Practice of medicinal products for human use (2013/C 343/01) apply
2 Federal Agency for Medicines and Health Products of Belgium
3 Transported Asset Protection Association
4 Authorized Economic Operator