A royal visit
Panalpina and Dutch authorities gave a Jordanian delegation, headed by His Majesty King Abdullah II, a guided tour of ground-handling operations at Schiphol Amsterdam Airport. The program highlighted Europe's third largest cargo gateway and an innovative logistics model that works fast even when dealing with fresh produce. Topics covered were inspections, security, customs, speed and efficiency.
22-03-2018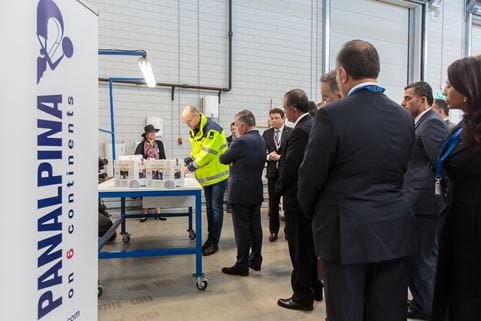 Yesterday, His Majesty King Abdullah II and a delegation of Jordanian officials including Minister of Industry and Trade, Yarub Al Qudah; and the Kingdom's Ambassador to the Netherlands, Ahmad Al Mufleh, paid a visit to the Joint Inspection Center (JIC) of Schiphol SmartGate Cargo at Schiphol Airport, Amsterdam.
On the welcoming end, Deputy Mayor Haarlemmermeer, Ap Reinders; president and CEO of Royal Schiphol Group, Bert Wiersema, acting CEO Customs; and Evert de Jager, deputy director Customs Schiphol Cargo, together with Panalpina's Rob de Vos, managing director for the Netherlands, and Lodewijk van de Vosse from the Panalpina Perishables Network, gave the guests a guided tour of the facilities and provided a demonstration of cargo and perishables handling.
JIC is designed to make freight handling safer and more efficient by allowing different law enforcement and inspection authorities to carry out checks in close cooperation with business partners.
"The event had the aim to assess the import processes of perishables and their effectiveness as part of a public-private cooperation; essentially, how these processes can have a positive impact on the speed of handling cargo by private entities without compromising security," says de Vos.
Automated and manual inspections
The program highlighted Europe's third largest cargo gateway and an innovative logistics model that works fast even when dealing with fresh produce.
As the visit took place on the busy airside of Schiphol, a pooled press delegation observed the different inspections from a designated area.
The Jordanian delegation was shown an example of the inspection journey that a package arriving at Schiphol SmartGate Cargo undertakes during the import process at the JIC. The samples had to go through JIC's innovative ULD control scanner, which is used to pinpoint risks and reduce time of the cargo handling. A further manual inspection was carried out by personnel of the Customs Authority to identify other potential risks.
Effective public-private cooperation
The second part of the visit focused on the effective public-private cooperation model the Netherlands uses for the logistics of perishables, an increasingly important industry.
This part of the tour was under the guidance of Panalpina; checks were performed by the Netherlands Food and Consumer Product Safety Authority.
Panalpina was asked to relocate some perishables that were in transit to the JIC to highlight the abovementioned cooperation model and demonstrate that less control by public authorities does not compromise security and can actually foster efficiency.
Thanks to this, perishables that arrive by plane at Panalpina's hub in Schiphol reach their final destination elsewhere in the Netherlands within approximately two hours.
"Very stringent requirements need to be fulfilled to be part of these processes. We are proud to work together with our partners at Schiphol and the authorities to ensure every step of the way is handled in the safest and most efficient way," says van de Vosse. "This is something we aim to do throughout our global Perishables Network."
With Amsterdam and Luxembourg, Panalpina currently has two airport locations in Europe that are licensed for the handling of organic produce. Both hubs are directly connected to the tarmac, ensuring the shortest possible route between aircraft and cold storage.
Interested in how one of the smartest cargo hub handles its perishables? See how Schiphol does it.
Photo gallery
(Pictures from Joep van Rheenen)