DSV provides brand new location for Danish Red Cross warehouse for disaster relief equipment
At the beginning of 2020, the Danish Red Cross warehouse for disaster relief equipment will be moving to our facilities in Hedehusene.
17-01-2020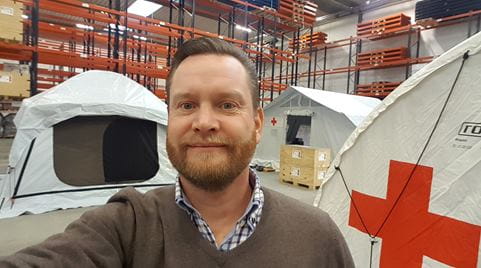 The warehouse is vital for Red Cross' ability to respond quickly to disasters anywhere in the world.
"Our new facilities are in the first part of the Hedeland distribution centre which will have a total capacity of 150,000 m2 when completed. Building from scratch provides a unique opportunity to equip the warehouses to better meet different needs including those of Red Cross. With the more flexible design of the new warehouse, Red Cross will be able to store and handle all the equipment they need for disaster management", says Per Hansen, Director, DSV Solutions in Denmark.
Flexibility is crucial in ensuring a quick response from Red Cross when a disaster occurs. "The equipment we use for disasters vary depending on the nature of the disaster and the items differ in size and shape," says Jesper Ranch, Disaster Response and Preparedness Manager at Red Cross and responsible for the distribution of equipment to disaster areas.
Preparing to deliver disaster relief
When a disaster occurs, the equipment required must be ready for shipment within 48 hours, and with the location of DSV's new warehouse Red Cross has easy access to both highways, ports and airports.
The Red Cross has very specific needs for the design of the 2,000 m2 of warehouse space which DSV is making available to the organisation. Moving to the new facility, an office and a ramp for loading smaller vans inside the warehouse is on the wish list but of the highest importance is floor space and lots of it.
"It is absolutely crucial for us to have a large amount of free floor space. We need to be able to set up our equipment and test it to ensure that everything is working as intended before it leaves the warehouse," Jesper Ranch says and goes on to explain that the Red Cross also uses the floor space to train the aid workers who are to be deployed when a disaster strikes.