DSV inaugurates the largest integrated logistics centre in Africa
Today, DSV inaugurates the new Gauteng HQ in South Africa, DSV Park Gauteng, which is Africa's largest integrated logistics centre. With this centralised facility DSV will be able to provide more seamless service to customers which is an integral part of creating a strengthened and more efficient logistics network in South Africa.
23-09-2021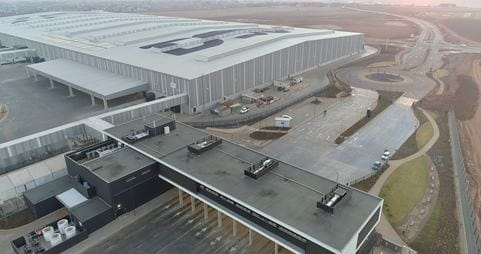 DSV has consolidated its Gauteng operations in South Africa into a new, centralised facility which is the largest of its kind in Africa. It is situated near O.R. Tambo International Airport between Johannesburg and Pretoria and with easy access to the East and West Rand. The logistics centre consists of approx. 130,000 m2 of buildings and covers supply chain solutions from first to last mile controlled and managed under one roof, by DSV.
The investment in DSV Park Gauteng is a testament to DSV's commitment to South Africa and to continuing to strengthen the logistics infrastructure in the country to the benefit of DSV customers and the South African society.
The new DSV logistics centre is officially being inaugurated at a virtual ceremony today, and the ceremony host and CEO of DSV Africa, Keith Pienaar, says:
"The inauguration of DSV Park Gauteng once again underlines DSV's strong commitment to South Africa and our will to grow the business in the region. DSV Park Gauteng consolidates several smaller offices and warehouses around Johannesburg into one large, modern logistics centre.
The foundation of our values and culture is to promote an inclusive workforce and sustainable business practices. One consolidated facility will enhance collaboration and offer truly integrated supply chain solutions for our clients and customers."
A large-scale and modern logistics facility
The sprawling complex houses a logistics warehouse of 79,000 m², a cross-dock facility of 41,000 m² and office space of 10,000 m². DSV's divisions Air & Sea, Road, Solutions as well as the Shared Services function will be inhabiting the new logistics centre while other specific units such as Healthcare and parts of Mounties and Solutions will continue out of their current specialised facilities.
"With DSV Park Gauteng, DSV has developed a large-scale modern logistics centre which captures the essence of our consolidation strategy to create larger and more efficient facilities, enabling us to have many of our business units together under one single roof."
"We have packed the new DSV facility with solutions such as an innovative sorter that can handle 12,000 packages every single hour. Throughout the whole building process, we have also utilised our global experience to construct buildings where sustainability and resource optimisation have been fundamental in all processes," says Brian Almind Winther, EVP and Head of Group Property, DSV.
DSV Park Cape Town
To further improve the infrastructure nationally in South Africa, DSV is also building a consolidating logistics centre in the Western Cape called DSV Park Cape Town. This site will be located near the Cape Town International Airport, and close to the harbour and industrial and commercial hubs.
About DSV Park Gauteng
DSV Park Gauteng in numbers
Land size: 390,286m2
Volume of bulk earthworks: 700,000 m3
Area of concrete yard and floors: 266,000 m2
Volume of concrete for construction: 60,000 m3
Fencing around the perimeter: 6,3 kms
Tonnes of steel for building construction: 3,800 tons
Building for the future
Innovation, sustainability and employee safety are key to the design of the buildings. The implementation of biometrics, solar power, translucent roof sheeting, recycling stations, LED motion lighting, boreholes and water filtration systems ensure that the facility is aligned to DSV's global strategy of sustainable operations, reducing our impact on the environment.
Local community
DSV worked closely with contractors and the local community to ensure they were included in the development of DSV Park Gauteng. DSV has sourced vehicles and created opportunities for people from the local community to work on site.
Through DSV's Enterprise Development Programme, DSV partnered with accredited training service providers to provide various skills training courses to 117 candidates. Courses included driver training (15 candidates), electrician (31), introduction to PC training (Outlook, Excel and Word) (30), introduction to PC training (Power Point) (15), electrical apprenticeship (10) and trade skills / construction courses (16).
Media inquiries
Enquiries from the media should be referred to:
Denmark (CEST): Maiken Riise Andersen, DSV A/S, Head of Corporate Communication, +45 43 20 30 74