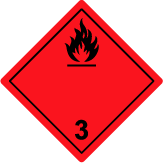 Hazard class 3: Flammable liquids
Substances and Articles of Class 3 do not have any divisions.
The dangerous goods regulations predominantly define flammable liquids as a liquid or a mixture of liquids that have a flash point of not more than 60° C, however diesel fuel, gasoil, heating oil (light) including synthetically manufactured products that have a flashpoint above 60° C but not more than 100° C shall also be deemed substances of the Class 3 flammable liquids list.

Class 3 Flammable Liquids can also be liquid substances and molten solid substances that have a flashpoint of more than 60° C, and which are transported whilst heated at temperatures equal to or higher than their flashpoint and liquid desensitized explosives, these being explosive substances which are dissolved or suspended in water or other liquid substances.

When transporting Class 3 flammable liquids by sea, the IMDG Code requires that the flash point is shown as part of the dangerous goods description.
Packing groups
Although Class 3 dangerous goods do not have any other divisions, flammable liquids have been assigned a packing group which indicates the degree of danger.
Packing Group I
: Substances presenting high danger
Packing Group II
: Substances presenting medium danger
Packing Group III
: Substances presenting low danger
| | | |
| --- | --- | --- |
| Packing Group | Initial Boiling Point | Flashpoint (closed cup) |
| Packing Group I | Initial boiling point ≤ 35º C | |
| Packing Group II | Initial boiling point > 35º C | Flashpoint < 23º C |
| Packing Group III | Initial boiling point > 35º C | Flashpoint ≥ 23º C - ≤ 60º C |

Reason for regulation
Flammable liquids give off a flammable vapour which, when mixed with air, can ignite or explode.
Based on their flashpoint and boiling point, they can be extremely flammable, highly flammable or flammable.


Examples of Commonly Transported Flammable Liquids
Acetone, adhesives, paints / lacquers / varnishes, alcohols, perfumery products, gasoline / petrol, diesel fuel, aviation fuel, heating oil, kerosene, resins, tars, turpentine, ethanol, benzene, butanols, isopropanol, methanol, octanes.
You may also be interested in
Learn about the requirements for shipping dangerous goods

Gain an overview of the nine classes of dangerous goods
Any questions?
Our experts are ready to help. Get in touch and we'll find the solution you need.