DSV helped Red Cross provide emergency relief for thousands of people after Malawi floods
DSV offered the warehousing space that held relief items for the 14,000 households in Malawi, which had sought protection in evacuation centers after the country was flooded by cyclone Idai in March.
06-06-2019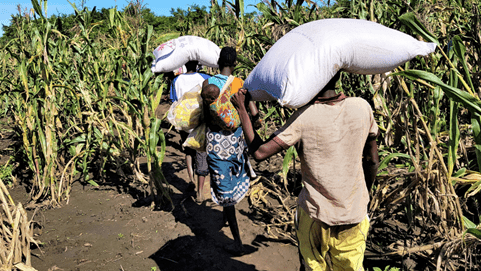 On 4 March, heavy rain intensified in Malawi causing a massive flooding in the country the following days. Malawi Red Cross responded to the flooding with the help of Danish Red Cross and DSV.
Floods have accounted for almost half of the major disasters in Malawi since 1946, but a flood as severe as the one we saw in March is not common. Therefore, Danish Red Cross sent delegates to support Malawi Red Cross, including operation manager Jan Erik Krøyer:
"We have been working with Malawi for many years. We've implemented an early warning system that was activated, which meant that Malawi Red Cross managed to alarm the most vulnerable, who escaped their homes before they were flooded."
DSV offered a warehouse
Because of the early warning system the flood only claimed 56 lives. However, many houses and crops were destroyed and more than 30,000 households were displaced. To keep all the people safe, Jan Erik Krøyer had to orchestrate a comprehensive plan for providing the necessary emergency relief, which Malawi Red Cross then executed.
"We distributed blankets, mosquito nets, chlorine tablets and kitchen tools among other things. It took up the space of 27 containers. That required a large warehouse for storage," says Jan Erik Krøyer.
When DSV then offered a warehouse that could hold the items as they were brought in by trucks, the help was greatly appreciated by Red Cross. Without the warehouse, Malawi Red Cross wouldn't have been able to store the relief items. DSV also took care of customs clearance as the items came in from Kenya to help the relief equipment reach their destination as fast as possible.
Operation went well
With the help of DSV and Danish Red Cross, Malawi Red Cross managed to distribute relief items to more than 14,000 displaced households that sought protection in evacuation centers.
"The operation went well. We got off to a rapid start, and we managed to keep up our pace," says Jan Erik Krøyer.
Now, the rebuilding process has begun to e.g. replant many of the crops that have drowned and washed away from the many households that rely on agriculture.
DSV has supported Danish Red Cross' project of building resilient communities in Malawi since 2017. The support goes toward enhancing the living conditions for poor and vulnerable families and ensuring access to fundamental necessities.
Any questions?
Contact Lindsay Zingg, Senior Director, Group Sustainability