Sending help to the Bahamas
On 1 September, hurricane Dorian hit the northern coast of the Bahamas. The damage is massive, leaving an estimated 70,000 people homeless and in need of relief. But it's difficult to get help to the area, since both infrastructure and means of transportation have been destroyed. DSV is helping Red Cross send equipment to the most affected areas.
12-09-2019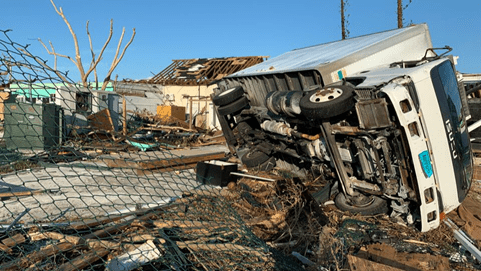 Danish Red Cross is sending equipment from the international Warehouse for Disaster Equipment in Denmark, sponsored by DSV.
Providing help as quickly as possible
Four people from Danish Red Cross have arrived in the Bahamas to set up base camps for the delegates. The base camps are fundamental in helping the local population, says Jesper Ranch Nielsen, Disaster Response and Preparedness Manager from Danish Red Cross:
"A base camp covers all basic needs for a delegate and allows them to focus 100% on helping the local population. Thousands of Bahamians need food and shelter, and the best and most efficient way of providing that help is for the Red Cross to have a safe base to provide help from."
The base camps are shipped from the international emergency relief warehouse. Here, Danish Red Cross stores all equipment needed in the aftermath of a disaster.
Within 48 hours of the call for help, Red Cross needs to be able to move out and get disaster relief to the affected areas, and that requires careful planning. To get help to the Bahamas as fast as possible, DSV transported the equipment to the nearest airport and arranged for the equipment to arrive safely at the Bahamas.
"Making sure equipment is transported in a safe and efficient way is what we know best in DSV, and we're proud to be able to contribute to Red Cross' emergency response efforts", says Helle Pedersen, Senior Manager, Corporate Social Responsibility in DSV.
The disaster relief equipment reached the Bahamas late Wednesday night.
Providing the right kind of help
Danish Red Cross is sending two smaller base camps to the Bahamas, not because the need for help is small, but because they need to be able to adapt to the situation upon arrival. Jesper Ranch Nielsen explains:
"The infrastructure and means of transportation are in such a bad state on the islands that it's really hard to get to the affected areas and to assess the damages accurately. With smaller camps, we are more agile, and we can provide help directly from the affected area. That also provides a better view of exactly which type of help is needed in a certain area", Jesper explains.
Delegates from International Red Cross | Red Crescent societies from all around the world will stay in the base camps for 3-5 weeks. The camps consist of tents, sleeping bags, a generator, a small kitchen and field rations and provides for 10 people each. These delegates are experts within community engagement, providing shelter, purifying water. They're also relief workers, who are experts in finding necessities like food and distributing it to the people who need it most.
You can help too
To increase the impact of their efforts, International Red Cross | Red Crescent is working on different initiatives for the victims of Hurricane Dorian. Visit your local Red Cross | Red Crescent site to stay updated on fundraising campaigns.
Any questions?
Contact Lindsay Zingg, Senior Director, Group Sustainability